Dallas lawyer surprises 44 Dunbar High School seniors with scholarships
FORT WORTH, Texas - It's the kind of gift that can change a generation: $250,000 in scholarships to 44 graduating seniors at Fort Worth's Dunbar High School.
The students received their gifts from Dallas lawyer Amy Witherite on Tuesday.
"You get a scholarship, you get a scholarship, you get a scholarship, you get a scholarship, every one of you guys!" said Witherite at the event.
Every student who applied for Witherite's scholarship was gifted one.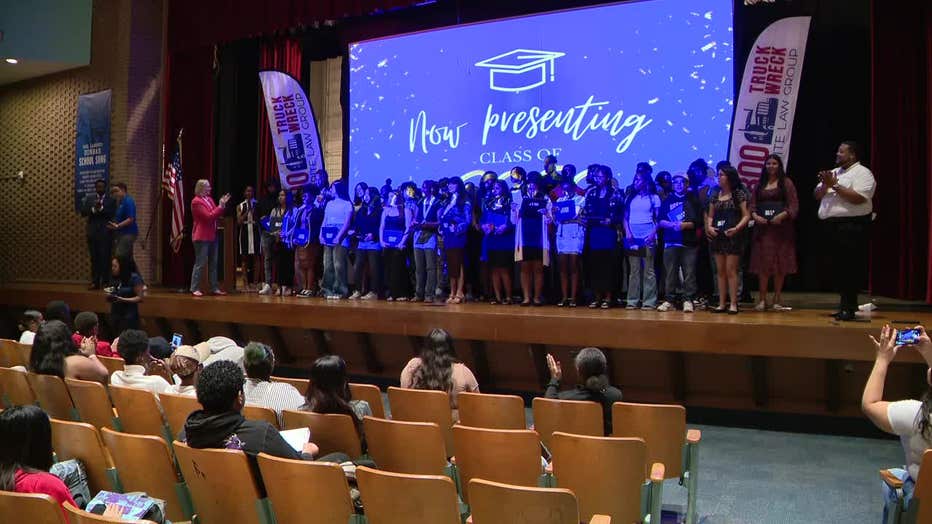 "To earn this and not have to worry about much in college, as far as financially, it's really a great award, and it makes me feel very accomplished," said senior Daniela Baeza.
The 44 $2,500 scholarships equals $110,000.
"This scholarship means a lot to me because its helping me take a bigger step into the next level of life and being able to go in college," said scholarship recipient Kyran Powe.
But that's not all.
"All you have to do is fill out a one-page renewal form. One page, and you get another $2,500 for every year you stay in school," said Witherite.
"You look at students receiving $2,500 scholarships that have the opportunity to renew, you are looking at the gift that keeps giving," said Justin Edwards, the principal at Dunbar High.
A total of $250,000 has been put aside for the scholarships and renewals. 
"It's the most fun I get to have. This is what really life is all about. It's finding ways to give back and lifting up, not just one family at a time, but lifting up communities," Witherite said.
Raytonia Cheatham watched her son Kadynn get his award.
"I'm excited, he deserved it. He worked hard it was, it was a rough journey, but we got him there. I'm so excited," said Cheatham.
Witherite grew up in Fort Worth.
Her mother taught in the same Stop Six neighborhood and served as elementary principal.
"This neighborhood is important, these kids are important. They're smart kids, but a lot of them just need a little extra help," Witherite said.
It is help that will go a long way.