Dallas homicide detective recognized for saving attorney's life in court
DALLAS - A Dallas homicide detective was celebrated Tuesday for helping save the life of a defense attorney who had a massive heart attack just as a murder trial was getting underway.
Homicide detectives usually are there after a life has been lost. But what happened in the courtroom two months ago was just the opposite.
Det. Frank Serra was recognized with a Lifesaving Bar for his heroics in Judge Brandon Birmingham's courtroom on Sept. 25. Defense attorney Allen Fishburn was in the courtroom when his heart just stopped.
"No symptoms whatsoever. None before. None during. None after," Fishburn said. "I just got through pre-admitting some exhibits about how PCP affects the human body. And then I sat down, and then I woke up in the hospital."
Fishburn fell to the floor after a massive heart attack. Serra was to be the key witness for the state. Now, he was key in saving Fishburn's life. 
"Det. Serra administered chest compressions for approximately 15 minutes until Dallas Fire-Rescue arrived," explained Dallas Police Chief Eddie Garcia.
The lawyer was unconscious and rushed to Baylor Hospital.
Serra has been seen on Trackdown searching for murder suspects caught on tape but still at large. He used CPR training he learned 12 years ago to save a life.
"When you're a detective, you know we're not the first responder to the scene. We're after the fact and gathering the evidence," he said. "And in this situation, I was the first responder. And it was wild."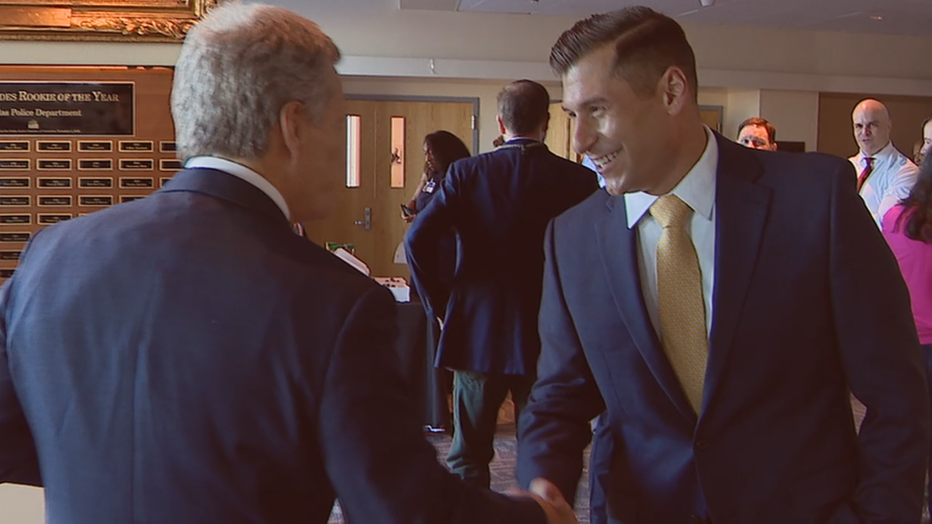 While Serra's hands were on Fishburn's heart, the attorney's partner, Jeff Lehman, applied mouth-to-mouth resuscitation.
At Baylor, Fishburn had successful emergency surgery.
Doctors have cleared the fit and active Fishburn to go back to the gym, but nothing else until January.
"I cheated on that this Saturday. Went out to a sandlot and played all-time quarterback. Anybody got near me, I'd just go like that," he said while holding his chest. "I didn't get sacked this past Sunday."
And when it looked like Fishburn was down and out in a Dallas County courtroom, Serra pressed and helped bring him back.
"I'm very grateful," Fishburn said.
"I'm grateful for my training, being the man that I am because of my family and God," Serra said. "And I'm grateful I was put in that position to be able to help save Mr. Fishburn."
The trial's been reset for a future date.