Dallas Co. Commissioner JJ Koch escorted from meeting after refusing to wear mask
DALLAS - Two politicians squared off at Tuesday's Dallas County Commissioners Court meeting over who can force who to wear a face covering.
A Dallas County Commissioner was ordered to leave Tuesday morning's meeting because he refused to wear a face mask.
Commissioner JJ Koch, the only Republican on the commissioners court, cited Gov. Greg Abbott's executive order prohibiting mask mandates.
"You do not have the authority under the governor's order. In fact, this morning I went to Starbucks and I have a mask. If you did things the right way and weren't abusive of your power and very demeaning and condescending to your court mates," he argued with County Judge Clay Jenkins.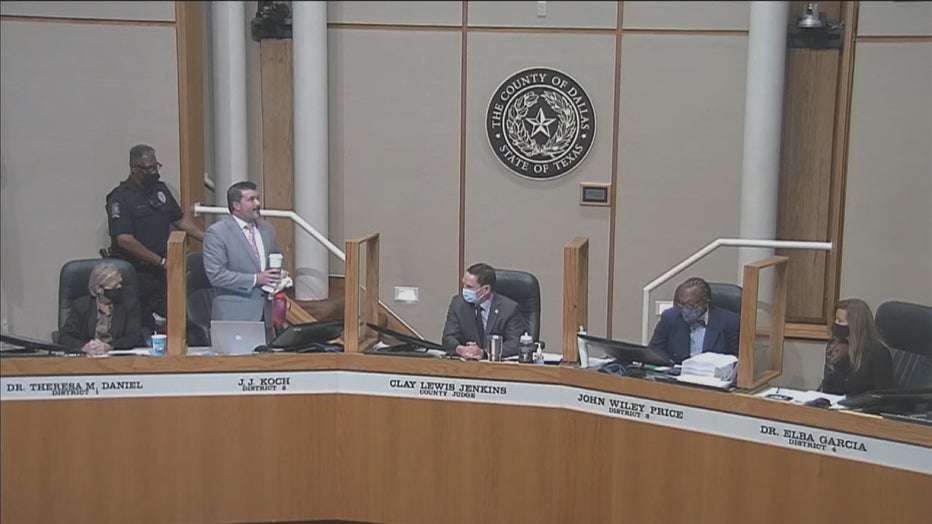 Prior to the meeting, all commissioners agreed to wear a mask and follow COVID-19 protocols.
Judge Jenkins ordered the bailiff to clear the court of anyone not wearing a mask and Koch was the only one.
"We want you to complete your elected duty here. If you refuse to wear a mask, you can complete it virtually upstairs," Jenkins said.
Jenkins said his authority to protect the court is backed up by a Texas Supreme Court decision.
Koch was escorted to his office and then rejoined the meeting via teleconference. The delay lasted nearly an hour.
Now, Koch says he is requesting a temporary restraining order to stop judge Jenkins' mask policy and a lawsuit claiming official misconduct, with the goal of removing Judge Jenkins from office.
"The mask thing is not a hill that I want to die on, but we're talking about the judge's continual overreach," he said.
Governor Greg Abbott's executive order prevents local governments in Texas from creating mask mandates. 
Still, SMU Constitutional Law Professor Dale Carpenter says it's a slightly grey area because the Texas Supreme Court allows judges to take their own reasonable actions to avoid exposing court proceedings to the threat of COVID-19. 
Administrative District Judge Maricela Moore created a mask mandate at Dallas County courthouses earlier this week.
"The problem is that I think it's very doubtful that commissioners court meetings are actually governed by the Texas Supreme Court's order, and instead they are probably subject to the Governor's order," Carpenter said.
The professor says the supreme court is likely only referring to judges in an actual courtroom.
"The Dallas County Commissioners are not a court in the ordinary sense, and Judge Jenkins is not a judge in the ordinary sense of the words," Carpenter said.
Judge Jenkins declined an on-camera interview with FOX 4 on Tuesday. He said in a statement "The enemy is the virus, not each other. My actions… are intended by me to keep people safe in accordance with the CDC guidelines."
Koch says he wants people to wear masks where it makes sense for them.   
"Guys with guns and badges ultimately enforcing that you wear a mask indoors, I think we're past that," he said. "I think we've now learned that masks, while somewhat effective, are not the be all end all. The scientific be all, end-all, the best thing we can do is to get vaccinated."
If a court finds that Judge Jenkins violated the governor's order, he could face a $1,000 fine. 
RELATED: North Texas COVID-19 hospitalizations back to February levels as Delta variant spreads