Couple that helped refugee family make it out of Afghanistan gets to meet them at DFW Airport
DALLAS - It was an emotional meeting at DFW Airport Wednesday afternoon when a family of Afghan refugees arrived to settle here in North Texas.
When they arrived, they got to meet some of the people who helped them.
It's been a long, complicated and dangerous process for many Afghans leaving their native country.
Even those who served right alongside U.S. soldiers.
Thankfully, some have had warriors of their own fighting with them each step of the way.
For Valentina and Andrew Simich, two military veterans from Celina, the waiting at DFW Airport Wednesday was short, compared to the waiting they've done these last few months.
"It's been an American project unlike anything you thought was possible in today's climate," Andrew said.
The work began in August, when the couple saw the situation in Afghanistan starting to deteriorate.
The Taliban was swiftly taking over cities, and many Afghans who had worked as interpreters helping U.S. troops now had targets on their backs.
The couple began initially helping families trying to get out with things like paperwork.
"You go from being a spectator to, now you're complicit in the whole thing. You're involved because you're talking to the people who are like, 'Please, please help. I have a newborn,'" Andrew said. "'I'm getting letters from the Taliban, they're looking for me. Can you do anything can you help us?'"
Relying on friends, other veterans, and military contacts, the couple coordinated an escape.
Eventually, getting 56 people out, including the family of U.S. interpreter Sayed Sidiqi.
"He asked me, before I was even able to help him, he asked me, 'Can I ask you a personal question?' and I said sure. He said, 'What state do you live in?' And I said Texas. And he said, 'Awesome, I'm planning to go to Fort Worth, Texas.' And I said awesome, I'll be there at the airport welcoming you, and he said, 'I hope so, if I make it out of here,'" Valentina recalled.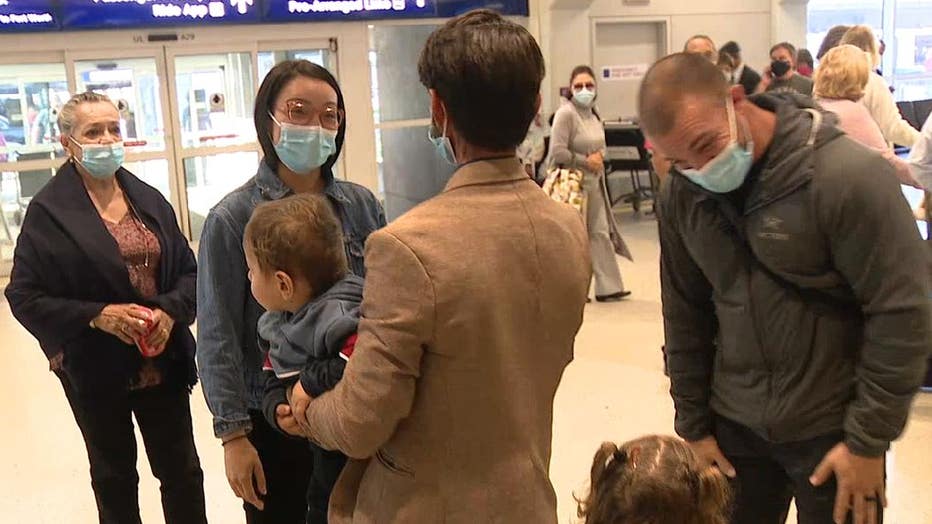 The wait was well worth it. 
After stops in multiple countries, and the last few weeks at a camp in El Paso, Sidiqi arrived with his wife, three kids, and nephew to settle in Fort Worth.
He was thankful it was near a North Texas family that extended him a lifeline.
"They did a lot for me, especially Valentina," Sadiqi said. "I was thinking that God has sent an angel to save me and to my family. So it was something like that, she was an angel for us and she saved our lives."
"People like Sayed, who worked along U.S. forces for like almost a decade, he provided us with support there when we needed it the most, and now, hopefully, we can repay that favor," Valentina said.
"He was willing to risk his life for American interests and he gave himself to something believing he was doing the right thing, and that we would have his back," Andrew said. "If the government, or the State Department is not going to live up to that, at least the American citizens can,"
The Simich's said they are still working with refugee families.
They want people to be welcoming and to extend a helping hand to these families now seeking to make the U.S. home.
RELATED: Groups helping Afghan refugees who are arriving in North Texas get settled