Colleyville woman awarded for saving toddler from drowning
NORTH RICHLAND HILLS, Texas - A Colleyville woman was honored in North Richland Hills tonight for her efforts to save a drowning toddler.
Brandi Rowntree was reunited with the boy whose life she saved and got to hug the boy's mom. She was the recipient of an award Monday by the city of North Richland Hills.
Leslie Resendiz is filled with gratitude for the good Samaritan and first responders who revived her 2-year-old son, Carlos Gonzalez, after falling into a pond in June.
"That day, I literally went and hugged her and cried with her and told her I was so thankful that she was there that day," she recalled.
Body camera video from North Richland Hills motorcycle officers captured the scary moments after Rowntree pulled the boy from the pond at Linda Spurlock Park.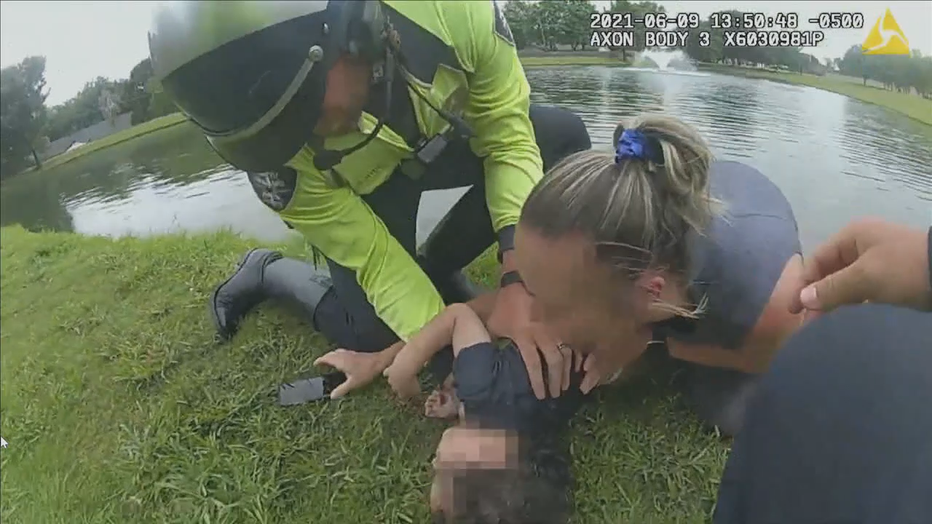 "He was blue," she recalled. "And I immediately put my hands right here."
Rowntree says the afternoon started as a birthday celebration at the park with her children when she heard the boy's aunt screaming.
"And she goes, 'I can't swim! Help him! Help him!'" she recalled.
Rowntree turned to the water and noticed two small shoes floating. The mother of four then jumped and pulled the boy out.
"I knew the only way that he had a chance is if I did whatever I could do," she said.
That meant relying on informal CPR training from Rowntree's mother years before.
Meanwhile, the boy's aunt frantically called 911.
North Richland Hills officers Rafael Cortes and John Hyde happened to be nearby and ran over to find Rowntree trying to revive Carlos.
"We were over what looked like the lifeless body of a kid. And we're thinking the worst at that point," Hyde said.
The two then rushed the boy to an EMT, who successfully got him to start breathing again.
Cortes and Hyde both credit Rowntree for saving his life.
"She made all the difference in the world," Hyde said. "Without her, we wouldn't have had a chance."
On Monday, the city of North Richland Hills presented Rowntree with an award thanking her for her actions.
And while she's grateful, Rowntree says she shares the credit with the swift action of the city's first responders.
"My husband and I have four children," she said. "And I just prayed that somebody wouldn't give up on ours."
Rowntree says she's working with a group called Colin's Hope, which helps provide low-cost CPR and swim lessons.