Classes cancelled for seven Dallas ISD schools Wednesday, others hold classes at alternate sites due to tornado
DALLAS - Ongoing power outages meant multiple Dallas ISD schools did not hold classes on Wednesday, as recovery efforts continue from Sunday's EF-3 tornado in North Dallas.
It was a day of adjustments, but the leader of Dallas ISD says things have gone smoothly for the hundreds of students sent to alternative classrooms.
District officials decided early Wednesday that the following campuses wouldn't re-open for the day:
Hillcrest High School

Ben Franklin Middle School

Medrano Middle School

Cary Middle School

Dealey Montessori

Kramer Elementary

Joe May Elementary
Three elementary schools still held classes, but temporarily at an alternate site: Burnet, Cigarroa, and Pershing. They will meet a Loos Field House. District officials worked throughout the day on Tuesday to prepare the athletics venue to host academic activities.
Three other campuses are closed indefinitely due to severe damage and will be moved for the rest of the school year.
And in a district known for its transformation and innovation schools, what is happening at Loos Field House takes it to the next level.
"We set up school yesterday, with teams of teachers, set up little classrooms in the facility, set up boards charts, materials," said Douglas Burak, principal of Cigarroa Elementary School.
Burnet, Cigarroa, and Pershing elementary schools, which are home to more than 1,600 students, are all under one dome roof at a sports complex.
"A lot of surrounding schools saw the need and brought resources to us," Burak added.
There is no cafeteria, but the district made do.
"We have sack lunches prepared and delivered, and community stepped, so our teachers didn't have to worry about bringing lunch, there were stacks of boxes of pizza," DISD Superintendent Dr. Mike Hinojosa added.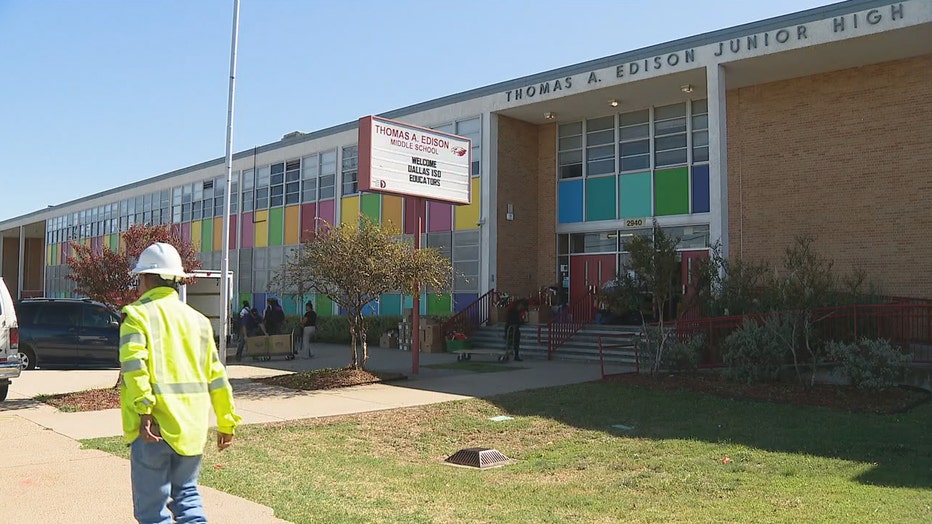 The biggest opening on Wednesday is at a long-term alternate site. Thomas Jefferson High School is re-opening at the recently closed Thomas Edison High School in West Dallas. About 1,800 students will be bussed nearly 10 miles to the Jefferson at Edison campus.
Crews were inside the building moving in furniture and other supplies just hours before students arrived on Wednesday.
Thomas Jefferson Principal Sandi Massey made sure each and every one of her students knew they were important. Students, and in many cases parents, had just made a 10-mile trek during rush hour to get to their new campus at Edison Learning Center.
"Hi guys! Group hug! You guys are going to love this place…Thank you mom and dad! Thank you!" Massey said as she greeted students and parents.
The scene was a relief to Dr. Hinojosa.
"I feel like a proud papa," he said. "The one I was most worried about was when you move a bunch of teenagers 10 miles."
According to the district, the attendance numbers for the school with the longest commute, Thomas Jefferson students at Edison Learning Center, was 1,400 students on Wednesday. That's 75 percent of the student body.
Walnut Hill Elementary is also re-opening at a long-term alternate site – Tom Field Elementary.
Students arrived at their new school to see a welcome sign and balloons. Staff really want to make the campus feel like home.
Parents dropped off $3,000 worth of school supplies at Tom Field on Tuesday. All the donations were from the community to help the teachers and students feel comfortable in their new environment.
Parents said it's been a tough week after seeing the school they love destroyed by the tornado.
"I actually went to Walnut Hill just like my son here, so it's kinda mindboggling, the destruction. It's sad because that school's been such a staple in that area. Having gone there myself, it's just sad. But it'll be back soon. This is a new beginning. The only thing constant in life is change," said parent Christopher Jones.
Students and staff from Cary Middle School will be split between Medrano Middle and Franklin Middle, depending on where the students live. But both of those new sites are closed on Wednesday.
On Thursday, the district is moving forward with its plan to have Carey Middle School students at Franklin and Medrano middle schools.
No doubt the most important lesson learned at DISD's improvised campuses on Wednesday was one that could not be taught with textbooks.
"Despite the disaster we can still pull together as a family, community, to do great things for each other," Principal Burak added.
These are a few temporary solutions to only cover part of the problem Dallas ISD is facing.
Remarkably, the district managed to seemingly build new makeshift schools with almost the same speed as the tornado that destroyed the old ones.
CLICK HERE for the new bus routes for those impacted by closed campuses.
Due to the possibility of rain, Dallas ISD is asking for people to drop off umbrellas at Loos Fieldhouse or the district HQ on Central Expressway at Northwest Highway Thursday morning for distribution at the temporary campuses.