Dallas receiving nearly $1M as a part of opioid settlement
DALLAS - Local communities are now starting to receiving portions of the multi-billion dollar settlement agreements made with Texas by opioid manufacturers and distributors.
The City of Dallas received $941,732.69 from the Opioid Abatement Trust Fund in early March 2023.
As the number of opioid overdoses skyrocketed during the pandemic, with a 30% increase in 2020 and 93,000 deaths, Texas entered into a settlement with multiple pharmaceutical companies aimed at funding local efforts to prevent opioid addiction.
PREVIOUS COVERAGE: Texas expects $1.5 billion as part of nationwide opioid settlement with drugmakers
Since then, fentanyl fueled a staggering 110,236 overdose deaths in 2022, according to the CDC.
Heather Ormand with the Nexus Recovery Center says the two issues are related.
"People were prescribed opioids and over-prescribed them for years, and then, once they became addicted, they turned street drugs and try to get their needs met in a different way," said Ormand.
Then many seeking prescription drugs on the street ended up taking fentanyl without knowing it.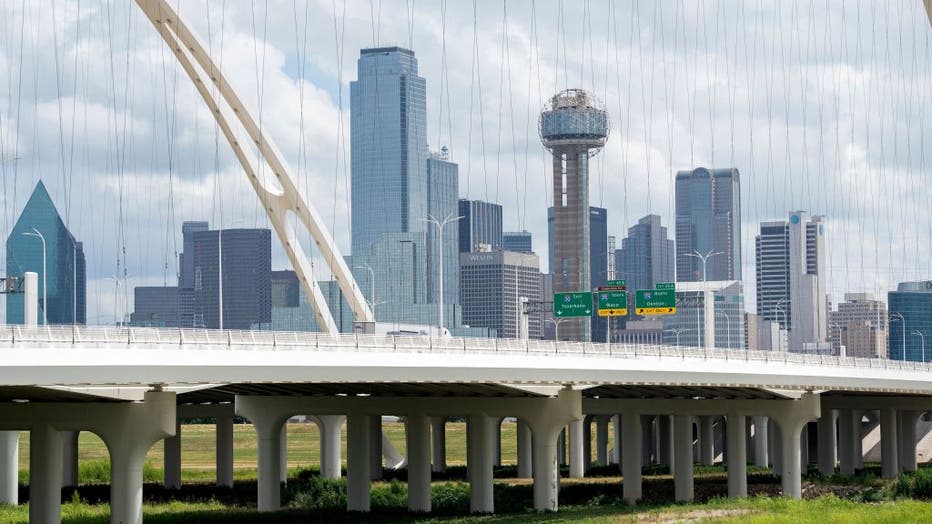 View of the Dallas skyline through the Horseshoe highway built to upgrade the congested interchange in downtown Dallas, Texas on July 21, 2020. (Photo by VALERIE MACON / AFP) (Photo by VALERIE MACON/AFP via Getty Images)
"It's in about every street drug that there is, to even marijuana," said Ormand.
The settlement money is now being distributed to cities based on a formula that includes the number of overdoses in a community.
The City of Dallas will be making recommendations about how the city should use the nearly $1 million in settlement money from drug manufacturers next month.
The money can be used for a number of reasons including:
Distribution of Naloxone, a drug that can reverse the effects of opioids
Opioid screening, and treatment services for pregnant women, infants, and others
Drug disposal and syringe services
Funding and training for first responders
Prevention and education campaigns
Support to prevent over-prescribing, misuse, and overdose
Research to help fight the opioid epidemic
Ormand says she is hopeful the money will make a difference.
"Our hopes are that I can be used for treatment, and any type of a substance use disorder, treatment and prevention," she said.
Dallas City Council is expected to formally accept the funds and review proposals for how the money will be spent at its May 10 meeting.
City leaders say the money should be used for one-time expenses, instead of recurring payments, because it is unknown if the city will receive any additional money.