Chief Marian Brown named interim Dallas Co. sheriff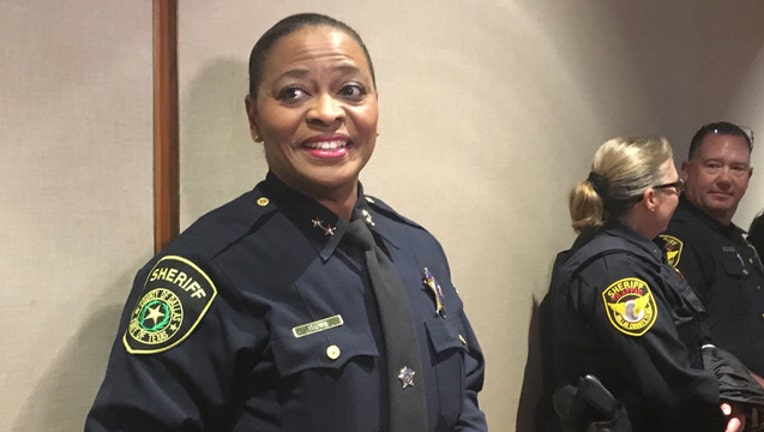 article
DALLAS - Dallas County commissioners have appointed an interim to replace outgoing Sheriff Lupe Valdez.
The commissioners agreed unanimously Tuesday morning to name Chief Marian Brown as Valdez' replacement for now.
Brown has been third in command under Valdez and is running for the sheriff position as a Democrat. She has worked in law enforcement for 29 years and has been with the sheriff's department for the past three years.
"As we say in law enforcement, I got it in my blood. And so I wanted to do this and I was still a senior in college and I had to figure out how to tell my mother I think I want to do something different. You know, I know you spent your money on this but I think I want to do something different. And so here I am. I anticipated I would spend a year, get it out of my system and then come back around to what I originally wanted to do but that never happened. Twenty-nine years later it's still in my system and I'm just as proud today to do it as I was back then," she said.
Brown is married to FOX 4 reporter Shaun Rabb.
Outgoing Sheriff Valdez explained why she recommended her for the temporary role.
"She's accountable. She's responsible. She's professional. She's diplomatic. I mean, that's pretty close," she said.
Four other candidates have filed to run for Dallas County Sheriff including Dallas County Constable Roy Williams Jr. He said he would have liked the chance to be interim.
"All of us would want to be able to run for the office from the office. I would have appreciated the same opportunity but it didn't work out that way. But again I have the advantage of already having been in office," said Williams, who has been an elected constable in southwest Dallas County for the past seven years. "This is going to be an exciting race."
Brown officially becomes interim sheriff on Dec. 31. Valdez will finish out the year and then begin her run for governor.