Carrollton firefighter's widow reunited with lost coin honoring his service
CARROLLTON, Texas - A Carrollton firefighter's widow got a chance to meet the department member who restored a bit of her late husband's legacy.
Paramedic Lee Holbert was a registered nurse, SCUBA diver and pilot. In 2020, his 30th year with the department, he was commended in a ceremony during which he received the special coin. 
"He hands me everything to take home except for the coin. I'm not sure why, but he kept the coin.  The next morning he came home and said, 'Well, I didn't have that coin for very long,'" recalled Holbert's wife, Lisa. "He said, 'Troy took a hard turn and the coin was just gone.' I said, 'What do you mean?' He said it rolled, and it went down into a crack, and it's somewhere in the streets of Carrollton."
Holbert passed away 6 months later.
Retired firefighter Troy Smith, who was driving Holbert when the coin was lost, remembers the moment it happened.
"I figured we'd find it when we got back, but it was nowhere to be found. I took things apart, took the seat apart, looked everywhere, but apparently it fell down further than I could see apparently," said Smith.
Hope of finding a special memento was all but lost. It turns out it was never far from its owner.
The coin is now back from the abyss thanks to mechanic Nick Anselmo. He spotted something shiny when he worked on the engine.
"I went, 'Oh cool a coin, it's a cool little fire coin.' When I flipped it over, and I saw the 30 years, I was like, 'Oh man, someone misses this," Anselmo said.
Anselmo gave Lisa the coin during an emotional reunion.
"The second I saw it I said, 'I know exactly what happened. He set it on the dash, it slid down and landed right at his feet.'" said Anselmo.
A 30-year commemorative coin found unscathed and Lee Holbert's legacy honored once again.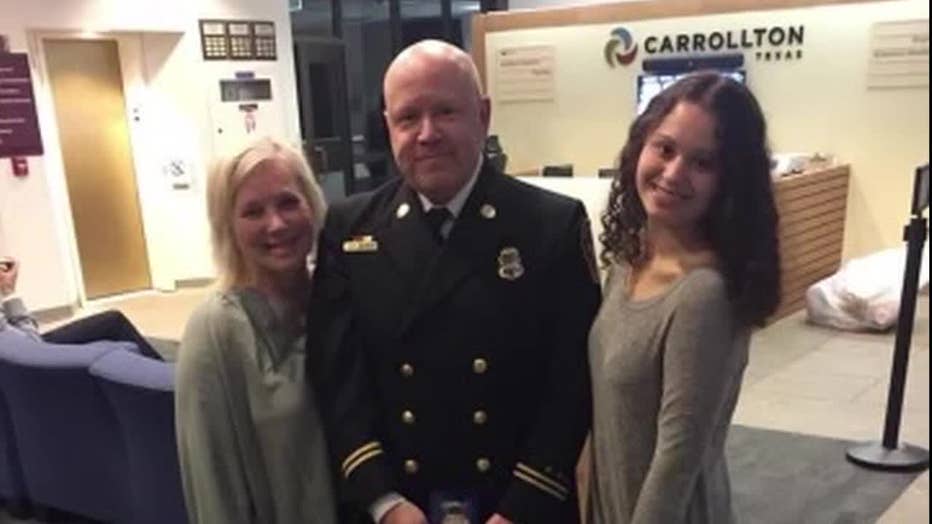 "This is such a big deal for my children and I," Lisa said. "For me, it's a sign that he's still with me."
Holbert says she will now include the coin with some others her husband received throughout his career and mount them together in a special frame.