Carpenter Park opens on east side of Downtown Dallas
DALLAS - The concrete jungle of Downtown Dallas is a little greener with the opening of Carpenter Park.
The newly renovated and expanded park opens Tuesday on the corner of Pearl and Live Oak streets. The new park will connect downtown with Deep Ellum and Old East Dallas. 
While some may have avoided the area because of blight and crime and safety concerns in Deep Ellum, the city has a plan to keep the area clean and safe.
The area began as Carpenter Plaza back in 1981. Now it's a nearly six-acre green space that includes an interactive fountain, walking paths, seating areas, a basketball court and play areas for children and dogs.
RELATED: Fair Park's largest parking lot to be converted into a park
"As more people decide to live downtown, there's an increasing demand for open green space. And Carpenter Park that we're dedicating today is just the latest jewel in our downtown master plan for parks," said Dallas City Councilman Paul Ridley.
The councilman described the park as just one piece of a larger puzzle.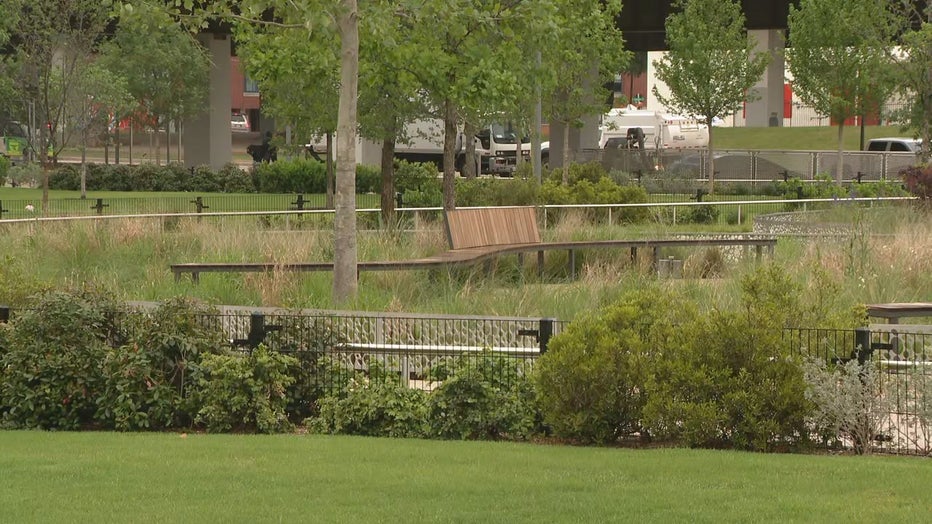 "It started in 2004 with the development of the downtown parks master plan. There's a plan behind everything, and this was just the latest of multiple parks that have been opening downtown starting with Klyde Warren and Belo Park," he said. "And the one that's left that's still under construction is Harwood Park. So when they're all completed, there will be a circle of parks in downtown."
RELATED: Millions donated to build new southern Dallas deck park
When Harwood Park opens next year, the city's plan of adding 23 acres of parks in 20 years will be realized.          
"I googled to see Dallas Downtown in 2008, and guess what came up?" said Dallas Park Board President Arun Agarwal. "It said, 'concrete,' 'crime,' 'vacancy,' 'no hope.'"
And while the shadow of an overpass often attracts crime, Downtown Dallas Inc. expects the park to combat crime naturally by attracting large numbers of people — even at night.
It's a prospect some downtown visitors might be skeptical of given the history of concern about transient populations.
"This park completely transforms at night," said Amy Meadows with Parks for Downtown Dallas. "I want to ask you all to come back out at night. I think you will be astounded."
Downtown Dallas Inc. works to keep the city's downtown parks safe and clean. It's paid for through a special tax by downtown businesses. A spokesman says the nonprofit responds to what would be low priority police calls for things like aggressive panhandling in an average of seven minutes. 
Agarwal insists it is working. 
"Now, when I google Downtown Dallas, the words that come are 'green,' 'growth' investment,' 'quality of life,'" he said. "Twenty-three acres of parks, it's the largest investment in any city in America."
List of planned events at Downtown parks: https://downtowndallas.com/events/
Anyone within the Central Business District can report quality of life concerns on our "See Say Now" app, https://apps.apple.com/us/app/see-say-now/id1387573920, by calling 214-741-1151, or by texting 972-440-1995. More info here: https://downtowndallas.com/live/clean-safe/