Blind North Texan getting equipment to help blind Ukrainian refugees
NORTH RICHLAND HILLS, Texas - A North Richland Hills woman who is blind and studying overseas thought about the special needs of blind Ukrainians fleeing the violence.
She's collecting equipment for them, like braille tablets, to make their transition a little easier.
Laurel Wheeler is a graduate student in Finland, but she just got back from a trip to Warsaw, Poland, where she was helping blind Ukrainian refugees. 
Wheeler founded the Laurel Wheeler Foundation five years ago. It provides technology and resources to blind people in Eastern Europe. 
When Russia invaded, she knew she had to help. 
Blind Ukrainians are crossing the border and struggling to find the necessary resources. That's where she comes in. 
She flew over to Poland with donated canes, magnifiers, brail displays.
Once she made it to Poland, monetary donations bought nearly two dozen laptops and smartphones in bulk.
All supplies are worth a total of $50,000.
"I never imagined, at the end of the first day, I would be sitting here with all of this. It's amazing," Wheeler said. "I carried them in a checked bag to Warsaw this morning from Helsinki," she said. 
She sat in front of crucial technology blind Ukrainian refugees need to escape war in their homeland. 
"Most people in Ukraine are using desktops, and of course, you can't carry that in war, right?" she said.
Blind Ukrainians are relying on guidance from people like Wheeler as they head west.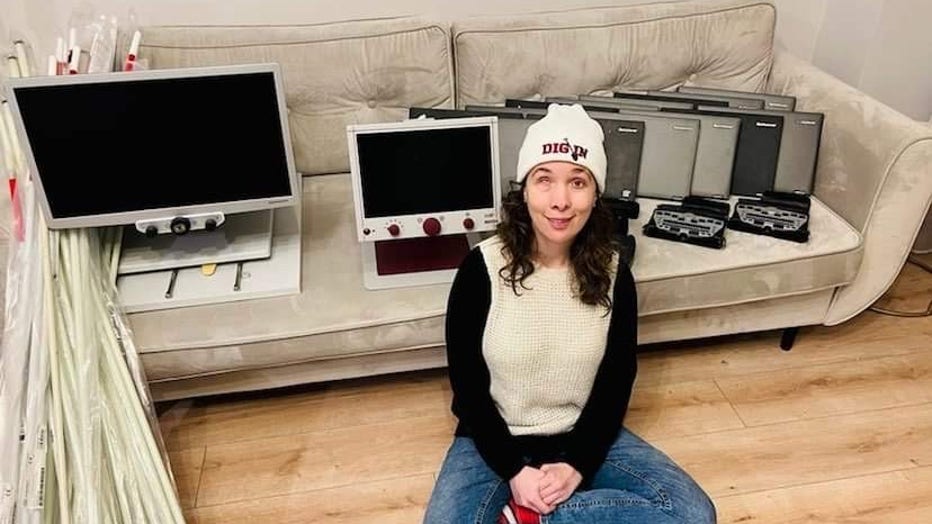 "Often times, a lot of times, blind people who make it out are dependent on their social connections," Wheeler said. "Friends, family, neighbors, volunteers, they help them get to the train. Once they get to the train or cars or whatever they use to get out with, after that, the journey is unknown."
READ MORE: Dallas students raise $120,000 for Ukrainians as part of lesson about Russia-Ukraine War
Escaping Ukraine is extremely difficult and dangerous for blind refugees. 
Wheeler said many are still weighing their options, hoping they survive. 
"They are hoping to build their life in Warsaw and they don't know where they will end up," she said. "It's terrifying to leave when you, first of all, don't know how you are going to leave or if anyone will help you once you get to where you are going."
Wheeler said the ones who did make it are in desperate need, including children.  
While in Warsaw, Wheeler went to nearby boarding schools for the blind, including parents and children who fled Ukraine. 
"In the background you can see Olga is working with the kids to get the computers set up," she said. "So that the war doesn't stop their studies and doesn't prevent their education and success."
She said each student and adult has their own story of bravery, and she's willing and prepared to listen to all of them.
"I am not going to abandon you. I have you. I have your back. That is what it's about," Wheeler said.
Wheeler said she's helped close to 70 people, including hundreds of students who escaped Ukraine who are still in school. 
Wheeler will be back in Warsaw next week to bring more laptops.
She plans to make several more trips as she continues to raise funds.