Beto O'Rourke drops out of presidential race
Former Texas Rep. Beto O'Rourke announced Friday he was dropping out of the race for president.
O'Rourke's campaign began in the spring with high expectations and a big surge in donations, but he fell in the polls after his initial burst and struggled to generate the necessary enthusiasm and interest to sustain efforts in the Democratic presidential primary.
O'Rourke tweeted Friday that his campaign "has always been about seeing clearly, speaking honestly, and acting decisively." He writes, "In that spirit: I am announcing that my service to the country will not be as a candidate or as the nominee."
Friday evening in Iowa, O'Rourke kept his date with supporters at a rally in Des Moines after sending out word earlier that he was ending his presidential run.
"We have to clearly see at this point that we do not have the means to pursue this campaign successfully," he told supporters.
O'Rourke was urged to run for president by many Democrats who were energized by his narrow Senate loss last year in Texas, a reliably Republican state. He raised an astonishing amount of money from small donors across the country, visited every county in Texas and used social media and livestreaming video to engage directly with voters. He ultimately lost to incumbent Republican Sen. Ted Cruz by 3 percentage points.
"Once Beto O'Rourke started running for president, he got a lot closer scrutiny than when he ran for senate," SMU political science professor Mathew Wilson said.
He spent several weeks trying to build his campaign around climate change, calling global warming the greatest existential threat the country had ever faced. But as the excitement over his candidacy began to fade, O'Rourke was forced to stage a "reintroduction" of his campaign to reinvigorate it. After a gunman opened fire at a Walmart in his hometown of El Paso, killing 22 people, O'Rourke more heavily embraced gun control, saying he would take assault weapons away from existing owners.
"He really began to swing for the fences. Taking more radical stances to try to attract attention, to distinguish himself from the pact," Wilson added. "He talked about taking people's guns, taxing churches that oppose gay marriage. Those are pretty out there stances, but they were attempts to attract the liberal base."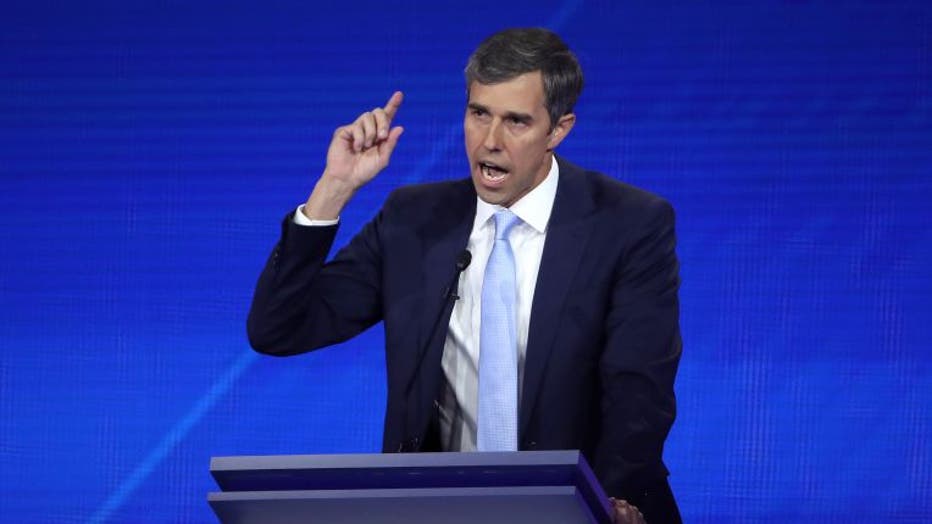 O'Rourke has no plans to run for the U.S. Senate seat in Texas in 2020, according to the New York Times. Sen. John Cornyn is up for re-election and there are several Democratic challengers.
O'Rourke's decision comes as the Democratic primary enters a critical stretch. With three months until the kickoff Iowa caucuses, polls consistently show a trio of candidates leading the way: former Vice President Joe Biden, Massachusetts Sen. Elizabeth Warren and Vermont Sen. Bernie Sanders, with Pete Buttigieg, the mayor of South Bend, Indiana, showing strength in Iowa, as well. Lower polling candidates face difficult questions about whether they have the money to sustain a campaign through the first primary contests.
Earlier this week, Kamala Harris, another candidate who entered the race to much fanfare, announced she was downscaling her campaign, laying off some staffers and reorienting almost exclusively to focus on Iowa.
O'Rourke's decision came hours before he was supposed to join other Democratic contenders at a party dinner in Iowa. Campaign volunteers were still collecting voter information and handing out "Beto" stickers" outside the event amid a steady rain as the candidate announced he was dropping out.  
O'Rourke did not endorse another Democrat for the nomination, saying the country will be well served by any of the other candidates, "and I'm going to be proud to support whoever that nominee is."
President Donald Trump quickly weighed in on O'Rourke's exit, saying in a tweet: "Oh no, Beto just dropped out of race for President despite him saying he was "born for this." I don't think so!"
And while campaigning in Mississippi Friday night, mentioned O'Rourke.
"Did you hear Beto? Oh, that poor b******…pathetic," Trump said. "He came out of Texas a hot political property and went back as cold as you can be."
While O'Rourke's presidential run is over, Wilson said it may not be the end for O'Rourke as a possible vice president pick.
"Particularly, if it's a woman or person of color. They may look at Beto O'Rourke as a ticket balancing, if they are trying to make inroads into Texas," Wilson explained.
Multiple Democratic candidates tweeted about the news, saying O'Rourke helped bring to the forefront what they say is a gun issue in our country.