Azle teen hurt in bull riding accident leaning on faith during road to recovery
AZLE, Texas - An Azle teen with a love for bull riding is recovering in the hospital after an accident nearly a week ago.
On Friday, a bull bucked 17-year-old Alex Aguilar off and kicked him in the neck, leaving the rider with major injuries.
Doctors call him very lucky. His family says they are blessed.
With Daniel Aguilar recording her son bull riding, the chute opened.
"It was just six seconds. Six seconds he was riding that bull," she recalled. "It was like… the baddest moment of my life when they take him out because he cannot walk very good. But he got up very fast from the floor because of the adrenaline."
Alex, a member of the Azle High School Rodeo Club, was severely injured when the 1,500 lb. bull kicked him, injuring a major artery in his neck. The 17-year-old was in the ICU for two days and is now in a trauma unit at JPS Hospital.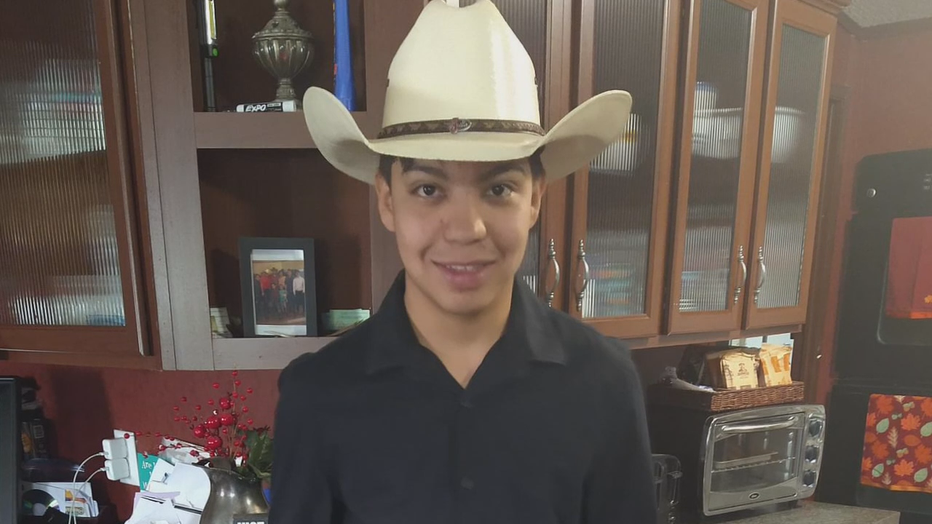 "He tells me since the beginning, 'Mom, I want you to take pictures of me. Not to brag, but I want to be a testimony with my recovery,'" Daniela said.
Doctors describe Alex's daily progress as "touch and go." Daniela also points out her son's strong will to recover and the huge social media following and support he's receiving.
"Even people we don't know is texting us," she said. "Like, 'Hey, I'm here whatever you guys need. Food, coffee, a shoulder to cry on. Here is my phone number.' That's amazing."
Alex has captured the attention of several professional bull riders who've sent video get-well wishes, including JB Mauney, Alex's role model in the sport.
 A six-second bull ride. An immeasurable amount of faith.
 "We have 20 doctors daily in our room," Daniela said. "They say, 'Hey, you are so lucky.' And he says, "I'm very blessed.' So that's the message that he really believes."