As 1st debris found from Egypt plane crash, no clue on cause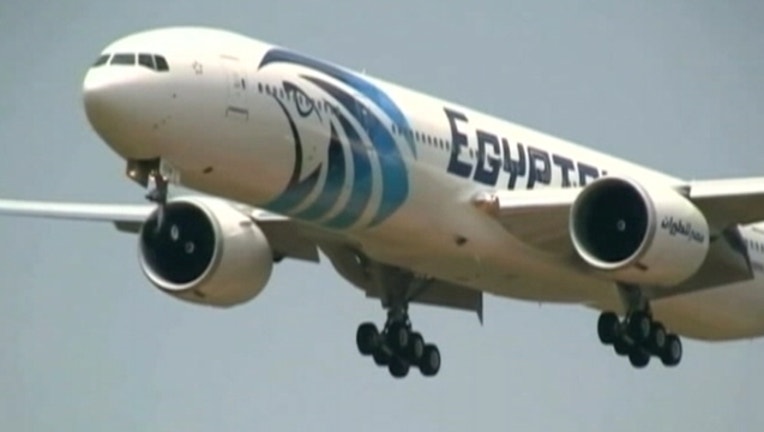 article
CAIRO (AP) — Search crews found human remains, luggage and passenger seats Friday from the EgyptAir jetliner that fell out of the sky over the Mediterranean Sea, as investigators tried to determine whether the disaster was the work of terrorists.
With no bodies to bury yet, relatives and friends of some of the 66 people on board held special prayers in mosques for the lost.
But the mystery remained over why the Airbus A320 — which had been cruising normally in clear skies on a nighttime flight from Paris to Cairo early Thursday — suddenly lurched left, then right, and plummeted into the sea, never issuing a distress signal.
Egyptian authorities said they believe it may have been an act of terrorism, as have Russian officials and some aviation experts, but so far no hard evidence has emerged.
No militant group has claimed to have brought down the aircraft. That is a contrast to the downing of a Russian jet in October over Egypt's Sinai Peninsula that killed 224 people. In that case, the Islamic State group's branch in Sinai issued a claim of responsibility within hours.
Three European security officials said the passenger manifest for EgyptAir Flight 804 contained no names on terrorism watch lists. The officials spoke on condition of anonymity because they were not authorized to discuss the investigation. The manifest was leaked online and has not been verified by the airline.
Still, the tragedy has fueled suspicions of terrorism, especially in light of the bombing of the Russian plane and the recent extremist attacks in Paris and Brussels. Some aviation experts have said the erratic flight suggests a bomb blast or a struggle in the cockpit.
French aviation investigators have begun to check and question all baggage handlers, maintenance workers, gate agents and other ground crew members at Paris' Charles De Gaulle Airport who had a direct or indirect link to the plane before it took off, according to a French judicial official who was not authorized to discuss the investigation and spoke on condition of anonymity.
Experts said answers will come only with examination of the wreckage and the plane's black box recorders. But retrieving them may take time. The water is 8,000 to 10,000 feet deep in the area where the jetliner is thought to have gone down, roughly halfway between Egypt's coastal city of Alexandria and the Greek island of Crete.
Friday brought the first confirmation of debris from the crash. The Egyptian army said it found debris around 180 miles (290 kilometers) north of Alexandria. EgyptAir said luggage and seats were located, as well as body parts.
France, Greece, Italy, Cyprus and Britain have joined the search, which encompasses a wide area south of Crete. Investigators from Egypt, France and Britain as well from Airbus will examine everything found, Egyptian officials said.
In Egypt, home to 30 of those on the flight, Civil Aviation Minister Sherif Fathi informed relatives there were no survivors, the Al-Masry Al-Youm newspaper said.
In several mosques around the Egyptian capital, families and friends of the victims held what is known as Salat al-Ghaib, Arabic for "prayers for the absent." Those are held for the dead when there is no body.
At the al-Thawra Mosque in Cairo's Heliopolis district, mourners wept as they prayed for a family of four who were killed — Salah Abu Laban, his wife, Sahar Qouidar, their son Ghassan Abu Laban and daughter-in-law Reem al-Sebaei.
"I ask God for forgiveness. This is very hard for the family," a relative, Abdel-Rahman al-Nasry, told The Associated Press.
President Abdel-Fattah el-Sissi's office issued a statement expressing its condolences to relatives and its "deep regret and sadness for the victims."
"God give great mercy and host them in his heaven," it added.
The statement marked the first official recognition by Egypt's government that the missing plane had crashed.
The crash has struck a demoralizing blow to Egypt. The economy has been gutted by years of turmoil since the 2011 overthrow of President Hosni Mubarak, and the Russian plane crash caused a new plunge in tourism, one of the country's main money makers.
Amid fears that a security lapse in Paris may have led to the tragedy, France's junior minister for transport, Alain Vidalies, defended security at De Gaulle Airport, saying staff badges are revoked if there is the slightest doubt.
French Foreign Minister Jean-Marc Ayrault asserted on French television that there is "absolutely no indication" of what caused the crash.
The pilot, Mohammed Shoukair, was experienced by Egyptian standards, with 6,275 flying hours, and co-pilot Ahmed Assem had clocked 2,101, officials said.
A terror analyst who is in contact with members of the Islamic State group and other jihadist groups said there have been "no credible or even semi-credible" claims of responsibility for the tragedy.
Shiraz Maher at the International Center for the Study of Radicalisation in London said the Islamic State issued a 20-minute video Thursday about its plans to conquer India.
"If they had been involved in the crash," he said, "it would be very odd for them to have sent that video rather than boasting of the crash."
___
Dodds reported from London.