Arlington ISD seniors to graduate at AT&T Stadium
ARLINGTON, Texas - Graduation ceremonies for Arlington ISD's Class of 2020 will be held at AT&T Stadium.
The school district said the Gene and Jerry Jones Foundation generously gifted the use of the stadium for the ceremonies in June.
AT&T Stadium's convertible roof allows Arlington ISD to comply with the state's guidelines for outdoor graduation ceremonies. The stadium, school district and Arlington Fire Department plan to work together to make sure graduates and their guests are properly screened and follow social distancing guidelines during the events.
Joseph Khair is a senior at Lamar High School in Arlington. He and other students hoped the coronavirus would not prevent them from having an in person graduation.
"Everyone was super upset about prom. That was like the highlight of the four years and it didn't happen," he said.
Last week, Arlington ISD officials said graduation would happen at UT Arlington in July. But there would be limited attendance.
RELATED: Arlington ISD to hold in-person graduations in July
Because of updated safety requirements, Arlington ISD Superintendent Dr. Marcelo Cavazos announced on Wednesday a change in plans.
"We are very pleased to announce we will be graduating the class of 2020 at AT&T Stadium in Arlington," he said.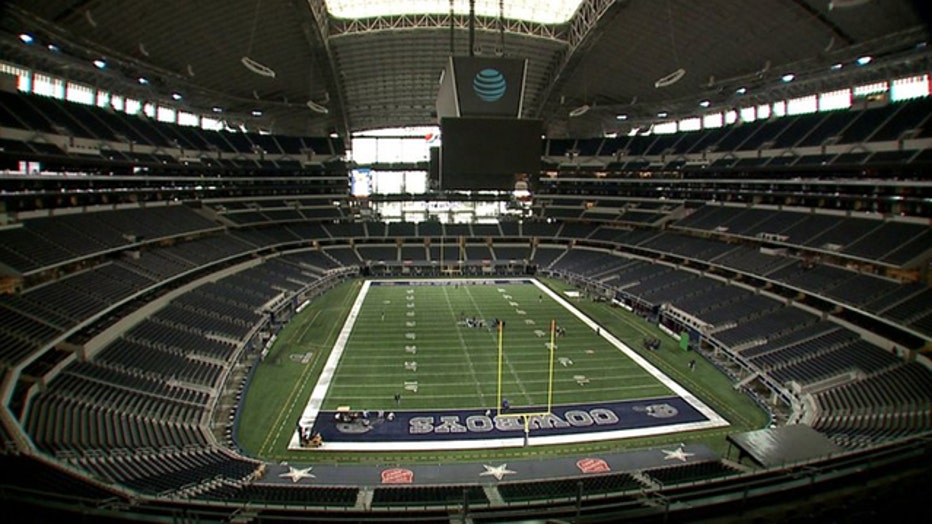 Use of AT&T Stadium was donated to the district from the Gene and Jerry Jones Foundation.
Charlotte Jones-Anderson says the stadium qualifies as an open-air facility with its retractable roof and doors open.
"I thought that stadium could certainly hold social distanced graduation. So I immediately got on the phone with the mayor and Dr. Cavazos and I said we have to find a way to make this happen so all of these kids will get a chance to graduate," she said. "I'm a senior mom, as well. So I certainly can relate to the drama and the disappointment of not getting to get that final moment in your cap and gown to receive that diploma."
Jones-Anderson's son is a senior at Highland Park High School. Their commencement ceremony will also be held at the stadium.
So will graduation for Jesuit College Prep of Dallas. There's a Cowboys connection there. The son of Hall of Famer Emmitt Smith is a Jesuit senior.
 The graduations for the more than 4,000 seniors from seven Arlington ISD high schools will be June 5-7. The district is working with the police and fire departments to make sure safety protocols are in place.
"Being able to have that is going to be such a big thing," Khair said. "My mom sacrificed a whole lot just making a new life here in America. Just being able to have that and have her there with me is the thing that means the most to me."
The district says in the coming days they will release information about how many people can attend per family and how they will use physical distancing in the stadium.