Allen High School students making shirts to raise money for shooting victims
ALLEN, Texas - High school students in Allen are selling t-shirts to raise money for the victims and families impacted by last weekend's mall shooting.
The 'We Are Allen' shirts went on sale Monday at the Spirit shop run by students at the Performing Arts Center at Allen High School. Now, they're busy filling orders before the shop closes next week.
Allen High School students are turning grief into action. 
Just a day after the mass shooting at Allen Premium Outlets, students who typically make gear for the school's spirit wear pivoted.
They quickly got to work designing and marketing shirts to raise money for the families of the eight people killed and seven wounded. They wanted a design that would be meaningful. 
"To show we are united as one. The heart to show where we are located in Texas" explained student Ethan Walling. "And on the back, united we stand. We will always be with those people who had to go through that. And the date on the back."
The response was orders for 1,600 shirts. It was more shirts than they could make with their class alone, but others quickly volunteered.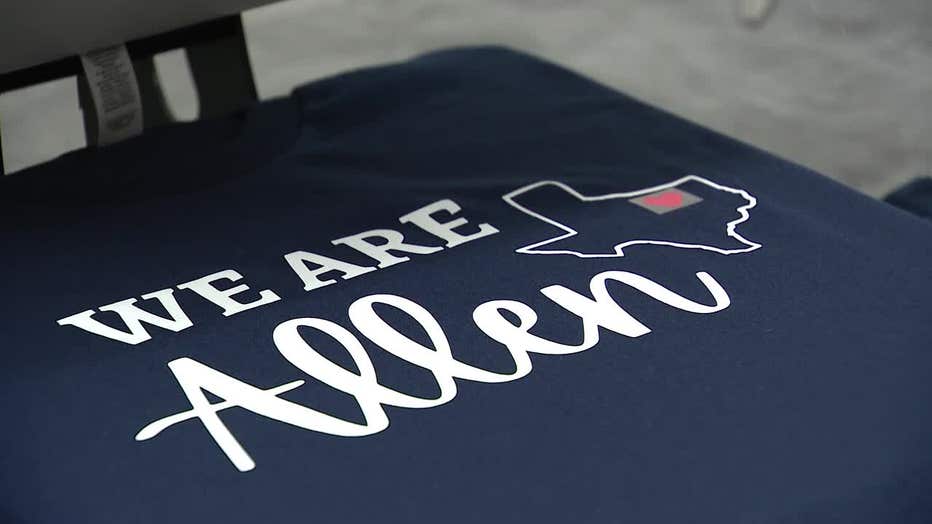 "We've had students from around the school coming in to help when they can during their off periods," said student Ryan Coon.
"People want to find a way to help," said student Kristie Wambo. "We are students, so we can't do as much. But what can we do? I feel like making these shirts is something everyone in our community can contribute to." 
"It hasn't taken their mind off of it because it's still front of mind, but it has given them something positive to focus on," said teacher Sue Rowley.
And that positive energy is something they need. 
Many Allen High School students work at the outlet mall where the shooting happened. 
"One kid who had been there came in and seemed like he was still in the trauma of it," Ethan said. "Him staying here has helped with his grieving. Seems almost back to himself."
Allen High School is donating the proceeds to the Communities Foundation of Texas Allen fund. It will then distribute the money to the families of the victims who died or were wounded. 
The Allen High School store's website has temporarily stopped taking orders for the shirts until they can get caught up. Their instructor says she welcomes anyone with large-scale equipment who is able to assist in the effort.