Ahead of potential '16 campaign, Perry unveils donor list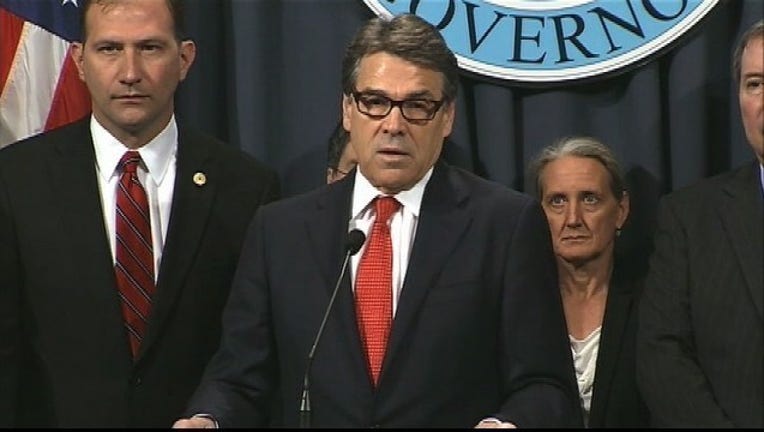 Former Texas Gov. Rick Perry unveiled a list of 86 donors from around his conservative state and the nation on Thursday, hoping to prove that big money isn't afraid to back his expected 2016 presidential campaign despite his "oops" past and possible trial on felony criminal charges.
The donors have pledged support to RickPAC, a nonprofit helping Perry gear up for a second White House run. The group raised a relatively underwhelming $300,000-plus between its founding in August and the end of last year.
Most of the donors are Texans and longtime supporters of Perry, key funders of his short-lived 2012 presidential campaign, or both. That includes Peter Holt, owner of the NBA's San Antonio Spurs, and James Leininger, a San Antonio businessman who has helped pair Perry with leading evangelical conservatives.
Non-Texans include Thomas McKernan, who chairs the board of the Automobile Club of Southern California and helped head that state's committee for Perry's presidential bid three years ago, and best-selling novelist Brad Thor.
Perry's 2012 campaign was undone by gaffes, including on a debate stage in Michigan when he made several awkward attempts but failed to come up with the name of the third of three federal departments he'd planned to eliminate if elected, then muttered "Oops."
Perry has since worked to remake his image as a humbler, more studious, would-be candidate, meeting for months with experts who coached him on policy.
"I think it sends a message that people around the country that have seen the governor out there become much more learned and worldly and on top of his game are impressed," said Roy Bailey, a Dallas finance and insurance executive who was a national member of Perry's 2012 campaign's finance team. "It's that national message that's so very, very important."
Texas' longest-serving governor, Perry left office in January after 14 years. He says he'll have an announcement on his future by May or June.
A potential stumbling block is an indictment for abuse of official power and coercion of a public servant brought in August by an Austin grand jury.
The charges stem from Perry's 2013 public threat to veto -- and then doing so -- $7.5 million in state funding for public corruption prosecutors. The unit's Democratic chief had rebuffed Perry's calls to resign in the wake of her drunken driving conviction.
Perry has already spent around $1.1 million of his campaign funds on his defense and the case may drag on for months. But one of those on Thursday's list, billionaire Texas businessman Red McCombs, shrugged Perry's legal problems off as partisan ploys: "I think that is 100 percent political."