Accused murderer faces child sex abuse charges, family indicted for child endangerment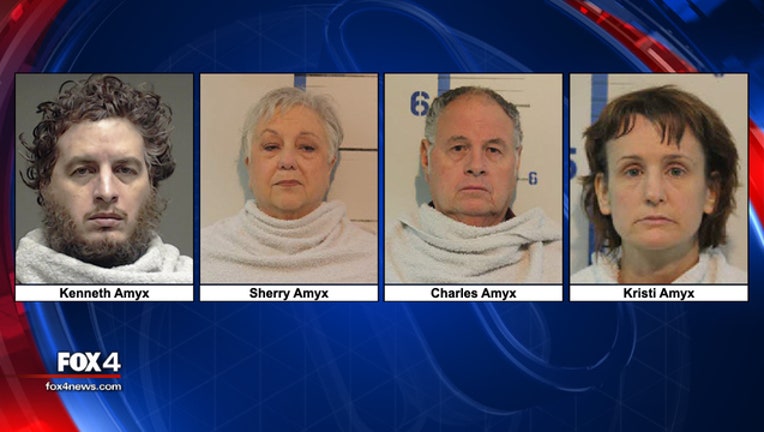 article
FATE – Three indictments were handed down for endangering a child for the wife, mother and father of a North Texas man that's already in custody for the murder of his girlfriend.
According to court records, a grand jury in Rockwall County indicted 46-year-old Kristi Amyx, 69-year-old Sherry Amyx and 70-year-old Charles Amyx for knowingly allowing a child younger than 15 years of age be placed in imminent danger by allowing a person known by them to engage in sexual contact with the child.
This comes just a month after Kenneth Amyx was indicted for continuous sexual abuse of a child with a victim under 14-years-old.
Kenneth Amyx is currently in Collin County jail on an unrelated charge of murder after he posted a bloody picture of himself and his girlfriend's lifeless body on her Facebook page. According to police they responded to a disturbance call in 2300 block of Kathryn Lane in Plano on the morning of May 29th. Once inside the apartment they found 43-year-old Jennifer Streit-Spears dead from apparent stab wounds. Amyx was found in the same apartment, also stabbed. He was transported to a local hospital where he was treated and it was determined his wounds were self-inflicted.
Amyx plans to plead not guilty to the murder charge, claiming it was a suicide pact between himself and Streit-Spears.
Court documents show that Kristi Amyx filed for divorce in May. Just five days later, The Department of Family and Protective Services filed an Emergency Protective Order on behalf of the couple's two children.