7-year-old who created kid-friendly food pantry nominated for award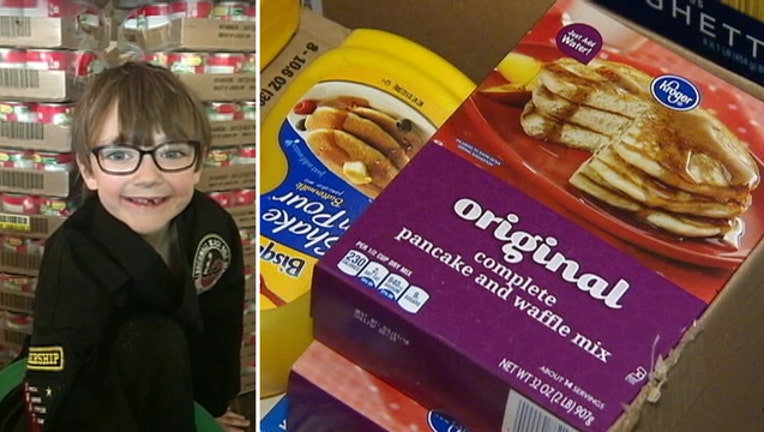 DALLAS - A big-hearted 7-year-old from Rockwall wants your vote to be the next kid entrepreneur of the year.
"Hey guys, it's me Kaden. I'm from Mac & Cheese and Pancakes. Thank you for participating. Go to the link and vote for me every day. Thank you for voting for me," Kaden Newton posted online.
He had the hiccups when his mom recorded the adorable video.
Kaden and his mom talked to FOX 4 last month. They shared the story of how they got started collecting food donations through Amazon's Gift Registry and created a non-profit called Mac &Cheese and Pancakes.
"When he was about 4, he came to my husband and I and said, 'I want to create a company to feed the poor,' and we were shocked," Dianna Newton said.
Kaden's parents helped him donate to a local food pantry, but he wasn't very happy about the idea of feeding other kids a bunch of canned vegetables. He came up with the idea of asking people to donate kid-friendly foods like cereal, peanut butter, macaroni and cheese and pancakes.
Just one week after setting up the Mac & Cheese and Pancakes charity on Amazon's Gift Registry, it received about 6,000 food item donations.
Kaden is now one of 10 finalists for the "Barbara's Bakery: Kid-trepreneur" contest. The business or charity with the most votes gets $10,000. To vote for him, visit http://woobox.com/h4kukn.
For more information about Mac & Cheese and Pancakes, visit www.facebook.com/macandcheeseandpancakes.