2 women drown in Lake Lewisville after falling from pontoon boat during birthday celebration
LEWISVILLE, Texas - Game wardens in Denton County confirmed two drownings in Lake Lewisville Sunday night.
The Lewisville Fire Department dive team recovered the bodies of 31-year-old Teegan Hill and her sister, 28-year-old Troinee Broom, overnight. 
The Texas Game Wardens are investigating, but said the pontoon boat the women were on started taking on water and the women fell overboard. 
Hill had just turned 31 Sunday. She was celebrating her birthday with a group of people when this happened.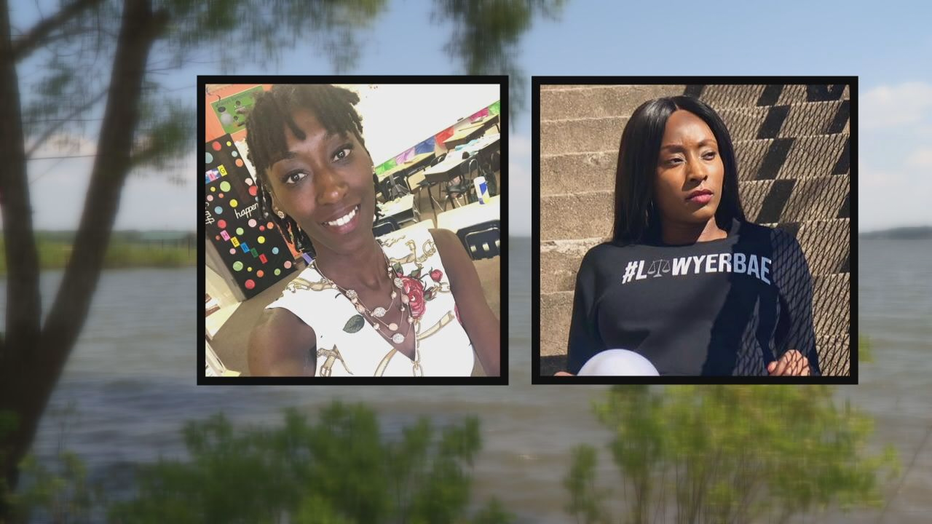 An investigation is underway into if the boat may have had too much weight on board. 
"Our hearts and prayers go out to the family members that they lost those two people this weekend. Unfortunately, Lake Lewisville is known for being a fairly dangerous lake," Highland Village Fire Department Chief Michael Thomson said.
There was tragedy on Lake Lewisville on the Fourth of July.
Thomson said they were called out just before 8 p.m. Sunday for a boat accident with people in the water. 
"Upon our arrival, there was a boat that was unloading passengers. The engine and ambulances showed up initially on scene," he explained. "We're able to triage those patients or those passengers. None of them had any injuries. But we did find that there was two passengers that were thrown from the boat that were still missing and unaccounted for."
Friends and family members shared memories of the sisters on social media, saying Hill was a gifted track star in school and was now working as an attorney. 
Her younger sister was also on the boat celebrating Hill's birthday, when both women fell into the water and didn't resurface.
Investigators said neither woman was wearing a life vest. 
First responders had planned to call off the search around 10 p.m. Sunday due to nightfall and low visibility in the water, but were able to recover their bodies.
"For the safety of the divers, we planned to restart the search [Monday] morning, however, the game wardens, using their sonar as they were leaving, thought that they had identified the potential location," Thomson said. "So after conversing with the Lewisville Fire Department's dive team and the game wardens, we opted to have the dive team come back out."
The Lewisville Fire Department's dive team was able to recover both women around 12:30 a.m. 
The Texas Game Wardens are investigating and said the pontoon boat initially took on water and started tilting when the women fell in. 
The boat operator beached the boat and tried to go back with life jackets to save them, but was unsuccessful.
Investigators estimate there were about a dozen people on the boat at the time, though witnesses said there were more than that. 
The Texas Game Wardens are looking into whether the boat was overloaded at the time of the accident.
"These accidents happen so quickly. People think they have time to put on a life preserver after the accident happens, but these accidents happen so quickly. Before you know, it is too late. And unfortunately, we feel that if the life preservers had been worn, we would have had a much better outcome than we did," Thomson said.