2 killed, dozen hurt in French supermarket hostage-taking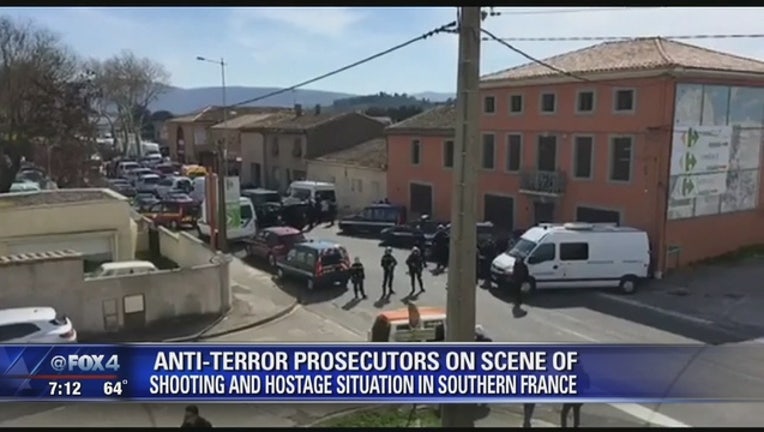 article
PARIS (AP) - An armed man took hostages in a supermarket in southern France on Friday, killing two and injuring about a dozen others, police said. He had earlier opened fire on officers nearby.
A spokesman with the national police service told The Associated Press that the attacker was still in the supermarket but it was unclear if there were people inside with him.
Prime Minister Edouard Philippe said all information suggested it "seems to be a terrorist act." France has been on high alert since a string of Islamic extremist attacks in 2015 and 2016 that killed more than 200 people.
The attacker first fired six shots at police officers who were on their way back from jogging near the city of Carcassonne on Friday morning, said Yves Lefebvre, secretary general of SGP Police-FO police union. One police officer had a shoulder injury but it was not serious, Lefebvre said.
The suspect then went to a Super U supermarket in the nearby small town of Trebes, about 60 miles (100 kilometers) southeast of Toulouse.
The national police spokesman, who was not authorized to be publicly named, said an operation to apprehend him was underway.
Special police units were sent to the scene and local authorities blocked roads and urged residents to stay away.
The Paris prosecutor's office said counterterrorism investigators were taking over the probe but did not provide details about why. Unconfirmed media reports say the assailant claimed connections to the Islamic State group.
French Interior Minister Gerard Collomb headed for the scene after talking with French President Emmanuel Macron, who is following the situation closely, according to a security official.
___
Associated Press Writer Angela Charlton contributed to this report.