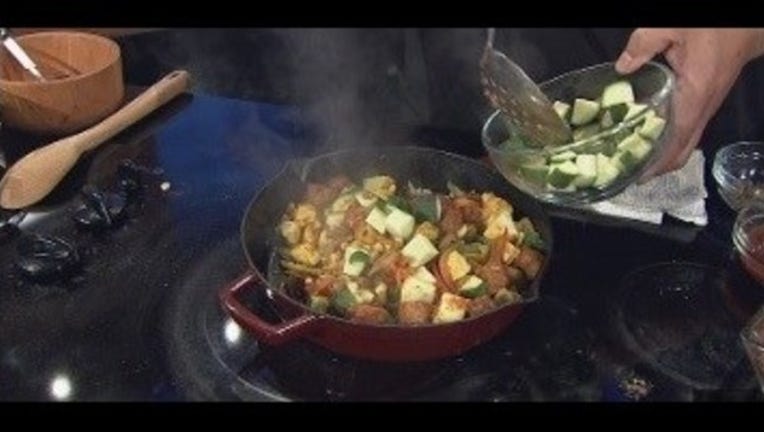 article
Tempeh     8 ounces- diced ½ inch cubes
Southwest seasoning     1 tsp (Paprika, chili powder, oregano, brown sugar, cayenne powder)
Vegetable oil     2 cups  
 The recipe for the frying the tempeh:
Place the 2 cups of vegetable oil in a large sauce pan. Place over medium heat and bring the oil to 350 degrees. 
Once the oil is at 350 degrees place the diced tempeh; and cook for 2-3 minutes.  Remove the tempeh and place in mixing bowl.
Season with southwest seasoning and reserve for later use.
Squash & zucchini    1.5 pounds- diced ¼ inch cubes
Yellow onions     1 cup–sliced in julienne strips
Green & red bell peppers     1 cup-sliced in julienne strips
Corn cob kernels     1 cob  
Garlic     1 tablespoon –chopped
Chipotle en adobo     1 tablespoon –chopped
Cumin     1 tablespoon
Kosher salt     1 tablespoon
Salsa     1 cup
Cilantro     ¼ cup chopped
Vegetable oil     ¼ cup
In a large skillet place the ¼ cup of oil over medium heat. Allow the oil to heat up then add the squash & zucchini mixture. Cook for approximately 3 minutes.
Next add the julienne onions, peppers, and also the garlic and corn cob kernels. Cook this mixture over medium heat for 3-5 minutes or until the squash, onions and peppers are tender.
Add the fried tempeh. Mix well.
Lower the heat and add the cumin. This aromatic spice will help to develop the deep fragrant flavor that is important in this dish
Add the chipotle and salsa and simmer for an additional few minutes.
Season with salt to taste and toss in the cilantro
Serve over cilantro lime rice or in a ta
Creamy Cilantro Lime dressing and White Balsamic Vinaigrette
Creamy Cilantro Lime:
1/2 cup chopped cilantro
1 clove garlic, crushed
1/2 tsp Tapatio hot sauce
1/4 cup crushed tomatillo
1 tbsp Ranch seasoning
1 tbsp lime juice
1/4 cup whole milk
1/2 cup mayo
1. Add first six ingredients to blender and blend until smooth, 30-45 seconds.
2. Add milk & mayo and blend another 20 seconds until fully incorporated. 
Ranch Seasoning:
2 tbsp dried parsley
1.5 tsp dried dill weed
2 tsp garlic powder
2 tsp onion powder
1 tsp ground black pepper
1 tsp dried chives
pinch salt
White Balsamic
1/2 cup white balsamic vinegar
2 tbsp apple cider vinegar
1 tsp dijon mustard
2 cloves garlic, roasted
1 tbsp agave
1/2 tsp kosher salt
1/4 tsp black pepper
1/3 cup EVOO
Add all ingredients to blender and blend until smooth, 20-30 seconds.