Granola by Chef Andrea Maricich of The Second Floor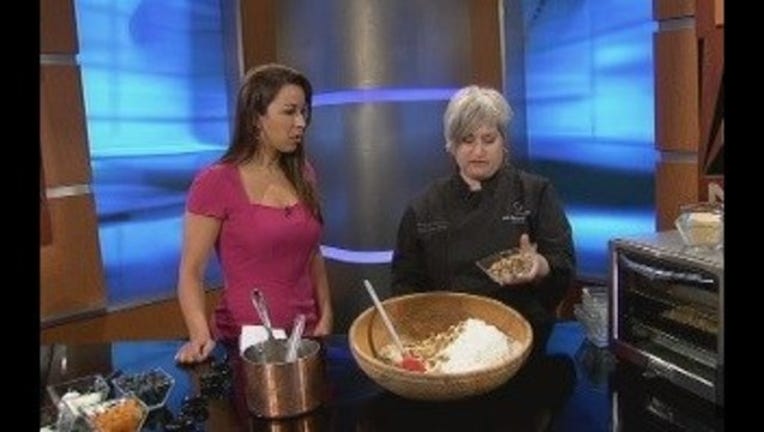 4 Cups Quick Oatmeal
1 ¼ Cups Shredded coconut
1 Cup Wheat germ
½ Cup Sesame seeds
1 ¼ Cups Chopped cashews
¾ Cup Flour
½ Cup Sunflower seeds
½ Cup Sliced almonds
¼ Cup Walnut pieces
¾ Cup Brown sugar
¾ Cup Coconut oil
¾ Cup Honey
Prepare a baking sheet tray, coat well with pan spray, DO NOT USE PAPER, it will stick, badly….Preheat oven to 325°.
Mix the first 10 ingredients in a large mixing bowl by hand. In a small sauce pan, heat the honey and oil. Pour over the dry ingredients and mix with a spoon until everything is coated evenly. Do not over mix as the grains will start to break down and the texture will be less than awesome.
Distribute evenly on the baking tray and pop in the oven. Flip and rotate often, every 10 minutes or so. Cook until it is evenly golden brown and smells like toasted nuts. Stir around as it is cooling or it will be one solid block. If you walk away from it while in the oven, it will burn!
Let cool, or don't (it is delicious hot too) and serve with Greek yogurt, fresh blueberries and diced dried apricots.
My favorite Greek yogurt with this granola is Greek Gods Honey, it is lightly sweet and super creamy.
Make this recipe your own, try different grains, nuts and seeds that you like, different fresh or dried fruits are nice for a change too.