Dallas weather: Thursday storms bring large hail, dangerous winds to North Texas
The severe weather risk in DFW on Thursday is over for the night, but not before leaving damage across some areas.
A Tornado Watch was issued for most of North Texas until 8 p.m.
The storm damage at Autos of Dallas in Irving is significant, but those in the thick of it know it could have been a whole lot worse.
General Manager David Mullins had his team and customers take cover right as a tornado warning was issued.
"We were standing on the porch and was filing the clouds," he recalled. "We saw rotation. I thought we got to get inside. It was scary. A lot of people screamed."
It's unclear if a tornado actually touched down, but there was a lot of hail with the dangerous winds.
Some drivers stopped to take cover from the hail.
"The roads are real bad, man. I just came from Oak Cliff, Texas," said driver Kavin Myers. "I mean, I stay here in Irving, but I barely could see. I was going like 15 on the highway on 35."
Candida Reyes said her drive was pretty dicey.
"I could barely see on my way over here. I wanted to stop, but I was like I just want to go home," she said. "Emergency lights on going probably like 30 miles per hour."
The rain came down so hard and so fast, water quickly covered the access road to Highway 183.
"I advise you guys to be real careful out there and have a great day," Myers said.
Around a section of Irving, we found some tree limbs scattered across lawns.
While there's plenty to clean up at the dealership, everyone is okay.
A little south in Grand Prairie, a damaged warehouse is being cleaned up.
People on scene say it is actually the roof from the business on the other side of this warehouse, but it came crashing down here. 
There were some people inside the warehouse when the storms came through. One man said it sounded like a freight train, then this roof came crashing down.
Thankfully, Grand Prairie fire says there were no injuries.
Over at Charity World Vision, the wind damaged some of the loading bay doors on that side. They actually have disaster relief resources on that side.
Groundstops were issued at Dallas Love Field and Dallas-Fort Worth International Airport.
Some school districts took measures to avoid severe storms.
Allen and Plano ISDs both canceled all after-school events on Thursday.
 Be sure to keep an eye on the FOX 4 weather page and the WAPP.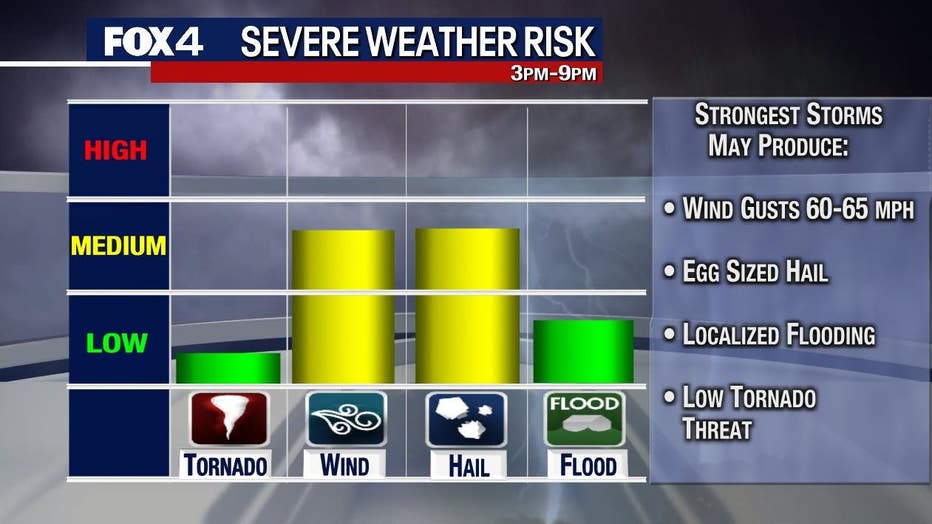 It is important to note that this storm system is not anywhere close to as concerning as the storms two weeks ago.
Live Radar
7-Day Forecast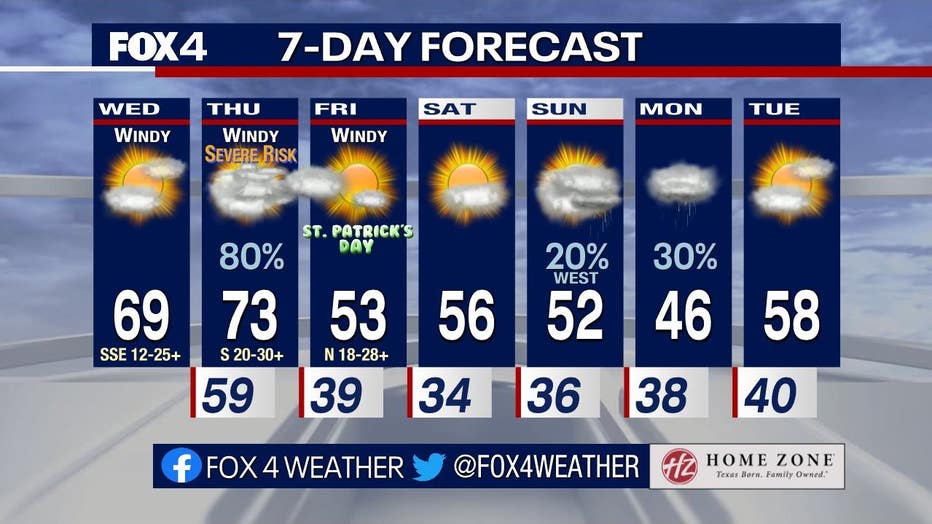 After the storm system moves through things will cool down.
For St. Patrick's Day Friday, it will be cold and windy. Low temperatures will drop into the 30s Friday.
Temperatures will be close to freezing in some areas Saturday morning, with the areas west and north of DFW being the most likely to see a light freeze.
Highs will only be in the 50s for the weekend.
For the first day of Spring on Monday, temperatures will be in the 30s and 40s.