Young's 27 lift No. 9 Oklahoma over No. 8 Texas Tech 75-65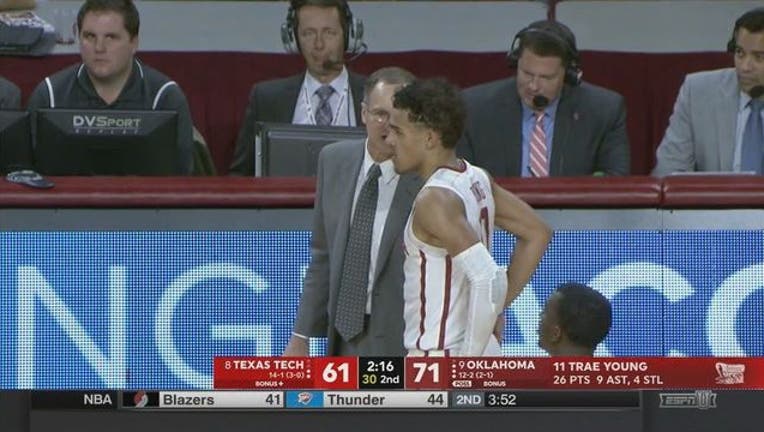 article
NORMAN, Okla. (AP) - Trae Young scored 22 of his 27 points in the second half to help No. 9 Oklahoma beat No. 8 Texas Tech 75-65 on Tuesday night.
Young, a freshman point guard who leads the nation in scoring and assists, made just 1 of 12 shots in the first half. He drained 6 of 11 in the second to help the Sooners bounce back from a loss to No. 2 West Virginia on Saturday.
Young also had nine assists and four steals for Oklahoma (13-2, 3-1 Big 12), which won its 11th straight at home. Christian James had 15 points and Khadeem Lattin added 11 points, eight rebounds and seven blocks for the Sooners.
Oklahoma shot 56 percent in the second half. Texas Tech entered the night ranked fourth in the nation in scoring defense, allowing 59 points per game.
Keenan Evans scored 19 points for Texas Tech (14-2, 3-1). He was the only Red Raider to reach double figures.
Texas Tech led 31-29 at halftime after holding the Sooners, the nation's top scoring team, to 31 percent shooting.
Young hit his first 3-pointer nearly three minutes into the second half to give the Sooners a 36-31 lead. He followed that with two more to push the advantage to 11.
Tech later closed the gap to four, but the Sooners bounced back again. Young's 3-pointer on a scramble with just under five minutes left made it 68-59. He found James for a 3-pointer with about two minutes remaining to bump the lead to 13.
BIG PICTURE
Texas Tech: Tech was one of the few teams to really bother Oklahoma's offense for an extended period, but the Red Raiders struggled to create open shots and couldn't take advantage. The Red Raiders also committed 15 turnovers, which helped the Sooners get their fast break going and eventually helped them find their rhythm.
Oklahoma: The Sooners didn't want to lose two games so early in league play in a season where the conference race looks wide open. It was a good experience for Young, who adjusted well against a tough defensive team.
UP NEXT
Texas Tech: Plays at No. 2 West Virginia on Saturday.
Oklahoma: Hosts No. 16 TCU on Saturday.
___
Follow Cliff Brunt on Twitter: www.twitter.com/CliffBruntAP .
___
More AP college basketball: http://collegebasketball.ap.org and http://www.twitter.com/AP_Top25 .