Young leads No. 12 Oklahoma over No. 10 TCU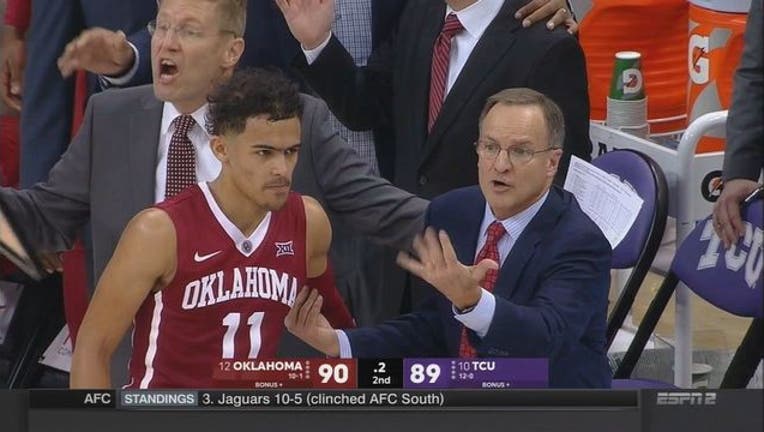 article
FORT WORTH, Texas (AP) - With its highest ranking ever and in its first home game in 20 seasons with both teams ranked, No. 10 TCU finally settled in after No. 12 Oklahoma opened the game with 11 straight points.
The Horned Frogs even went on to build a 13-point lead after halftime - and then let it all slip away at the end.
Standout Sooners freshman Trae Young scored 39 points, including the tiebreaking free throws with 7.9 seconds left, and had 14 assists to give Oklahoma a 90-89 victory Saturday in the Big 12 opener for both teams. The Horned Frogs had won 17 games in a row, the nation's longest winning streak.
"We've just got to learn how to finish games," said senior guard Kenrich Williams, who had 22 points but missed a rushed final shot.
"Obviously two high-level teams playing, and a fun game for everybody to watch," TCU coach Jamie Dixon said. "We're extremely disappointed to lose, but probably more so having a 13-point lead with 10 minutes left."
Young scored 17 points in the final 9 1/2 minutes for the Sooners (11-1, 1-0 Big 12), the biggest when he made both free throws after being fouled by Desmond Bane on a drive to the basket.
Kameron McGusty added 22 points for Oklahoma, including a go-ahead 3-pointer with 26 seconds left after Young missed from long range. Jamuni Mcneace grabbed the rebound and fed outside to McGusty.
"I just knew it was money when it left my hand," McGusty said. "It felt good."
Williams then put TCU back in front with a jumper. But he missed a rushed 3-pointer with 3 seconds left on a play out of a timeout after the last of Young's 15 made free throws.
"Obviously had more time," Dixon said. "Gosh, we practice it a lot. I was surprised we got what we got."
Bane and Ahmed Hamdy both finished with 15 points for the Frogs while Kouat Noi had 14 points with four 3s. Williams and Noi each had nine rebounds.
BIG PICTURE
Oklahoma: The Sooners won their ninth straight game and have already matched last year's win total after going 11-20 last season. They didn't falter at TCU when facing that huge deficit midway through the second half.
"Like you would expect, tough game, battle from the start," Oklahoma coach Lon Kruger said. "Good start, and they answered very quickly. ... Proud of the guys. Hung in there when they could have been down midway through the second half."
TCU: In front of an eager sellout crowd, the Frogs quickly fell behind as Young made two early 3s. But TCU, after missing its first seven shots, scored 10 straight points in an 86-second span. The Frogs will be competitive in the Big 12, but this was a tough way to open conference play. The 17-game winning streak, including the NIT championship last spring, was a school record.
SCORING AND DISHING
Young had his seventh double-double. The kid from Norman entered the game as the national leader in scoring (28.7) and assists (10.4). His fifth 30-point game was also his 11th straight game with at least 20 points - the longest Sooners streak since Stacey King's 11 in a row in 1988-89. He had six 3s.
OVER THE LINE
Dixon figured Young would get at least 20 shots in the game, and the TCU coach could deal with the freshman making only 9 of 23 from the field.
"If you would have told me that, I would have been fine with that," Dixon said. "It was the 18 free throws that we didn't' want to have."
UP NEXT
Oklahoma plays three of its next four games at home, starting Wednesday night against Oklahoma State.
TCU heads about 85 miles south on Interstate 35 to play at No. 18 Baylor on Tuesday night, then has another big-time Saturday home matchup next weekend against No. 11 Kansas.
___
More AP college basketball: http://collegebasketball.ap.org and http://www.twitter.com/AP_Top25