Young gets 48, but No. 4 Oklahoma falls to Oklahoma St in OT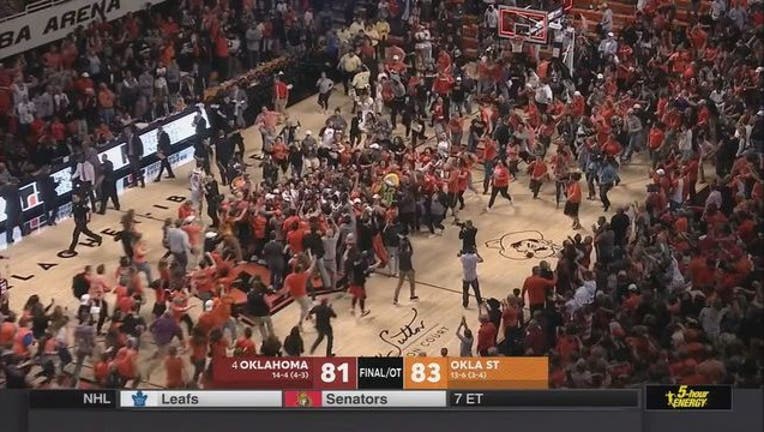 article
STILLWATER, Okla. (AP) - Trae Young scored 48 points, but missed a deep 3 at the buzzer in overtime as No. 4 Oklahoma fell to Oklahoma State 83-81 on Saturday.
Young, a freshman guard who leads the nation in scoring, had 34 points after halftime. He matched the fifth-highest scoring effort in Sooners' history after also missing a 3-point try at the end of regulation. He shot 14 for 39 - he was 8 for 20 on 3-pointers - and made all 12 of his free throws.
Jeffrey Carroll had 23 points and 13 rebounds and Kendall Smith added 20 points for Oklahoma State (13-6, 3-4 Big 12). Smith's 3 with 8 seconds left in regulation tied it at 73.
The Cowboys went on to post their first win over a Top 10 team for first-year coach Mike Boynton.
Oklahoma (14-4, 4-3) was coming off a loss to Kansas State. The Sooners had beaten Oklahoma State 109-89 in Norman on Jan. 3.
Oklahoma State led by two points late in overtime when Carroll missed a free throw that gave the Sooners a chance with 7.4 seconds remaining. Young struggled to get the ball up the court and was forced into a poor shot.
The Cowboys played a flawless first 10 minutes and bolted out to a 25-6 lead. The Sooners slowed the surge with an 8-0 run, but Oklahoma State held strong. Smith's 3-pointer as time expired in the first half gave the Cowboys a 42-30 lead. The Cowboys held Oklahoma to 30 percent shooting before the break. Young scored 14 points in the first half, but he made just 4 of 15 shots.
Oklahoma scored the first seven points of the second half to force an Oklahoma State timeout. A dunk by Brady Manek on an assist from Young cut Oklahoma State's lead to 44-41. The Sooners tied the game at 53 on a long pass from Young that led to a layup by Cameron McGusty, and a 3-pointer by Young gave the Sooners the lead for the first time.
BIG PICTURE
Oklahoma: The Sooners had a backbreaking week. Two losses to unranked teams, even on the road, won't look good for the Sooners on Selection Sunday when it comes time to consider the highest seeded teams.
Oklahoma State: The Cowboys have had several close calls against good opponents this season and finally got their breakthrough. It's exactly the kind of boost they needed to strengthen their NCAA Tournament resume.
UP NEXT
Oklahoma hosts Kansas on Tuesday.
Oklahoma State visits Texas Tech on Tuesday.
___
Follow Cliff Brunt on Twitter: www.twitter.com/CliffBruntAP .
___
More AP college basketball: https://collegebasketball.ap.org and https://twitter.com/AP_Top25 .