Woman says Baylor coaches were aware of assault allegations against former RB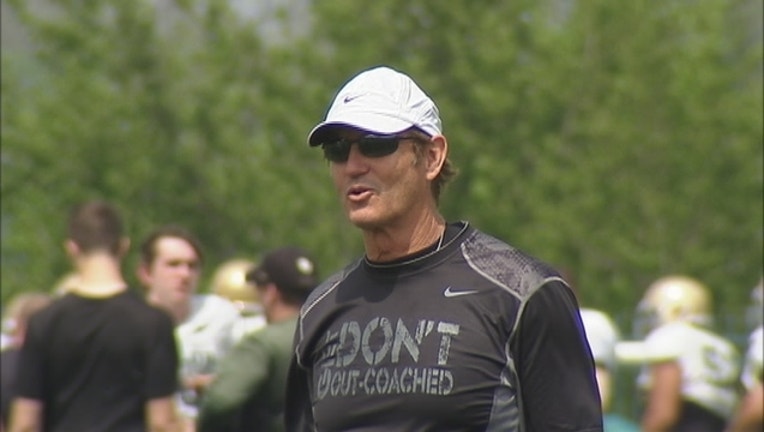 article
A former Baylor student who alleges former Bears running back Devin Chafin of assaulting her said that former head coach Art Briles and other assistant coaches were aware of the allegations.
ESPN named Chafin in a May report for allegedly assaulting a woman. According to a report from ESPN's Joe Schad, the woman is Baylor graduate Dolores Lozano.
Per Schad, Lozano accuses Chafin, her then-boyfriend, of three separate assaults. She said she texted Chafin's position coach, Jeff Lebby, about the alleged assaults while trying to decide if she should report the incidents to police.
Statements from Lozano's attorneys say that Chafin "slapped," "kicked," "slammed Lozano against a wall" and "choked Lozano until she lost feeling in her body." In another incident, Lozano says Chafin "forcibly and aggressively grabbed" her and threw her to the ground. The incidents happened in March 2014 and April 2014, respectively. She went to police in April 2014.
Despite the allegations and the coaches' knowledge of them, Chafin did not miss any time in the 2014 season because of them. Lozano said Chafin never faced a student judiciary hearing or any discipline.
Lozano gave Schad photos that she also gave police that show bursting on her arm and shoulder. The photos were allegedly taken after the incidents.
Lozano also reported the first incident to Chafin's mother, who Schad reports told Lozano not to go to police.
Lozano said that Chafin told her Briles was aware of the incident and told Chafin to "stay away" from Lozano.
"Baylor turned their backs to what was going on," Lozano's attorney, Ricky Patel, said in Schad's report. "The University is a place where people are supposed to feel safe. When something like this happens, it breaks your trust."
Lozano is planning a Title IX lawsuit against Baylor.
Briles was fired on May 28 after a university-commissioned investigation revealed Baylor's improper handling of sexual assault allegations, many of them involving football players. Former Baylor President and Chancellor Ken Starr and Athletic Director Ian McCaw also stepped down from their positions in the wake of the report.
Chafin was dismissed from the team on June 1. He was suspended from the team after a marijuana arrest in March.