Will the Sweet 16 produce more upsets?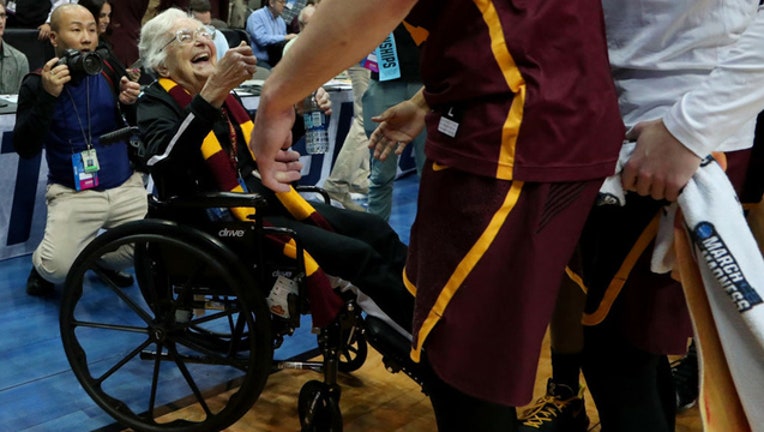 Back to the madness of March and the Sweet 16, starring Loyola-Chicago, Kansas State, Syracuse and whatever other underdog you might want to throw in there - maybe Florida State or Texas A&M.
For drama, look no further than the South Region, where the top four seeds are home watching the NCAA Tournament on TV. That includes Virginia, the overall No. 1 seed, plus No. 2 Cincinnati, No. 3 Tennessee and No. 4 Arizona. All were eliminated on the opening weekend, a tourney first .
Gone, too, from the field of 68 are high-scoring Xavier, a No. 1 seed, defending national champion North Carolina, and Michigan State, making the path to next week's Final Four that much more wide open.
"You've got a chance," said Bruce Weber, coach of ninth-seeded Kansas State. "Obviously, there's been so much chaos in this year's tournament and you say, hey, Kentucky is favored.
"Yeah, fine, so was Virginia, so was Michigan State, so was all the other teams, and they all are not playing and we're playing. I think we've got to have a good mindset."
Play resumes Thursday night with tournament darling Loyola-Chicago (30-5), an 11th seed, facing No. 7 seed Nevada (29-7), and Kansas State (24-11) playing No. 5 seed Kentucky (26-10) in the South at Philips Arena in Atlanta. The other two matchups are in the West, where No. 7 Texas A&M (22-12) meets No. 3 Michigan (30-7), and No. 9 Florida State (22-11) takes on No. 4 Gonzaga (32-4) at Staples Center in Los Angeles.
On Friday night, No. 1 seed Kansas (29-7) plays No. 5 Clemson (25-9), and second-seeded Duke (28-7) takes on 11th-seeded Syracuse (23-13) in an Atlantic Coast Conference matchup in the Midwest Regional in Omaha, Nebraska. In the East Region at TD Garden in Boston, it will be top seed Villanova (32-4) against No. 5 West Virginia (26-10), and No. 2 Purdue (30-6) against No. 3 Texas Tech (26-9).
For Florida State coach Leonard Hamilton, whose Seminoles haven't reached the Sweet 16 in a quarter century, all the upsets are just a sign of the times. It's just more painful for the Blue Bloods because more is expected of them.
"You have kids playing good basketball all over the country," Hamilton said. "But the schools that get the players with the most recognition have notoriety, and the expectations for those schools are at such a level that sometimes you get disappointed when the notoriety doesn't meet the success."
RAMBLING ON AGAIN?: Loyola and UMBC were the talk of the first weekend, but the 16th-seeded Retrievers were ousted by Kansas State after toppling Virginia in the first round, while the 11th-seeded Ramblers moved on with a last-second triumph over Tennessee.
Loyola, which also defeated Miami with a buzzer beater, is out to match its 1963 national championship team and ruin the bracket of 98-year-old Sister Jean , the team chaplain and erstwhile scout whose picks don't have her team advancing.
"These guys have been preparing for it and the reason why we can do it is these guys are winners," coach Porter Moser said. "It's been noted a lot that we have seven kids on our team that won state championships. They're winners and they're together. They're a connected team.
"We prepared for this every step, and they're locked in. They're going to embrace it."
Nevada coach Eric Musselman, in his third season in Reno, is out to halt the Ramblers' run. One thing the Wolf Pack will hope to avoid is a halftime deficit.
"If we get behind with this team, it'll be hard to get back in front because they execute so well offensively," Nevada point guard Hallice Cooke said. "They know how to control the pace of the game. It's very important for us to get off to a hot start, crash the offensive glass, take our time offensively and get great shots."
CONFIDENCE GAME: Texas A&M landed a seventh seed after an up-and-down season , and the Aggies have never advanced to the Elite Eight. Big man Robert Williams is out to change that.
"We plan on dominating the areas that we specify, so just keep that mindset," said the 6-foot-10 Williams, who played just 20 minutes in a 21-point victory last weekend over defending national champion North Carolina, long enough to snare 13 rebounds, block two shots, and sink all three shots he attempted.
Like 11th-seeded Syracuse, the Aggies use a zone defense to wreak havoc, and so far it's worked like a charm.
"Exact same thing as Syracuse, it's big. It's really big," Michigan coach John Beilein said. "I remember when I was at West Virginia. We got a guy wide open (against Syracuse) and Hakim Warrick blocked that shot into the 10th row, and that was the end of our night. I mean, our kids lost all confidence because of that length, and Texas A&M can do the exact same thing."
TOO MANY MEN: Florida State upset Xavier last weekend , and the Seminoles 10- and 11-man rotation played a big part.
Just wear 'em down, baby.
"I felt that that was the best way for me to compete with the rich tradition of programs that are always loaded with the top seven, eight players who are some of the top players in the country," Hamilton said. "Let's try to get a team of guys that would allow themselves to win by committee. We feel that we can compete a lot better if we have more guys to share the load where we don't put all that responsibility on one or two particular players."
CHALKBOARD FODDER: As the favorites have been bounced, the odds for the teams left standing change with each game, and the Wildcats of Kansas State haven't received much love. They've been relegated to the bottom of the heap an awful lot, and if the players haven't paid attention, Weber sure has.
"I don't know if they saw it, but we made sure they saw it, and we put it up on the board," Weber said. "Obviously, the game (against UMBC) was ugly, but I don't think people appreciate what UMBC did to Virginia. You're talking the best team in the country for most of the year, and that team was tough to play."
The Wildcats have won twice in the tournament despite playing without injured All-Big 12 forward Dean Wade, the team's leading scorer. But the 6-8 Wade is expected to return.
PAY NO ATTENTION: Fifth-seeded Kentucky is the favorite to win the South and advance to the Final Four, but don't bother telling Nevada's Musselman.
"I'm only worried about one game, one team, Thursday night at whatever time they tell us we're playing," Musselman said. "I don't even know who else is here."
___
More AP college basketball: https://collegebasketball.ap.org ; https://twitter.com/AP_Top25 and https://www.podcastone.com/ap-sports-special-events