Wild playoff matchup for Stars vs Minnesota replacement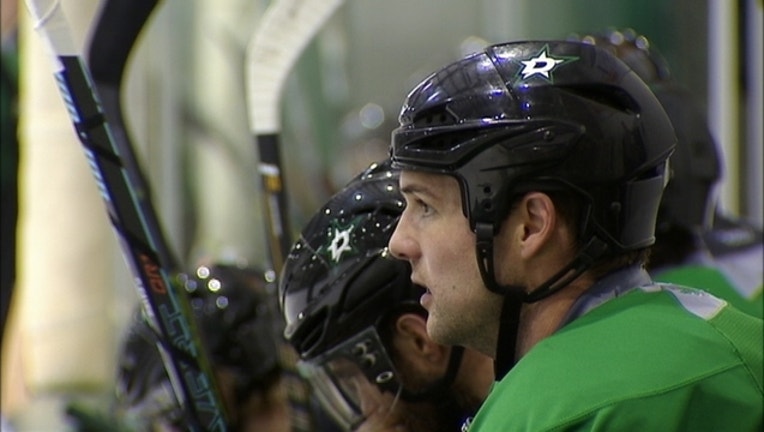 article
DALLAS (AP) — Patrick Sharp is getting ready to face Minnesota in a playoff series for the fourth year in a row. It will be the first for the Dallas Stars, the franchise with roots in the Twin Cities.
Known as the North Stars before moving south to Dallas in 1993, the Stars are the top seed in the Western Conference. They open their first-round series at home Thursday night against the Wild, the team that eventually replaced them in Minnesota.
"I'm sure it means something to the fans," Stars center Jason Spezza said. "For us as players, it's a little different generation for us, we weren't directly involved in it."
Spezza and Sharp were acquired in trades the past two offseasons, and with the high-scoring young All-Star duo of Jamie Benn and Tyler Seguin helped lead Dallas to its first No. 1 seed since 2003.
The Wild, in their 15th season since entering the NHL as an expansion team, are hurting going into their fourth consecutive playoff appearance. Top scorer Zach Parise (25 goals) won't even travel for the first two games because of an upper-body injury that has kept him off the ice for more than a week.
"It changes lines and the combinations we have and special teams. In every area of the game, it will have an effect," center Mikko Koivu said. "But if he's in, if he's not, then we've got to react to that as a team and go from there."
The Wild will also be without Thomas Vanek (18 goals) while Erik Haula, a solid third-line center who defends well, will likely be a game-time decision.
When the Stars won their only Stanley Cup title in 1999, they beat Buffalo and Lindy Ruff, now their third-year coach. Sharp was part of his third Stanley Cup championship last season with the Chicago Blackhawks.
The Stars won four of five meetings this season against Minnesota, three in overtime along with a 6-3 win that included two empty-net goals — among the Stars' NHL-record 24 empty-netters and NHL-best 265 goals overall this season. Minnesota's victory was 2-1.
But the last of those games was Feb. 9, before the Wild fired Mike Yeo and named John Torchetti the interim coach.
"Their defense is involved a little bit more ... Offensively, I think they've got a little bit more giddy-up and go in them," Ruff said. "There's going to be some structure changes for them and there might be personnel that are in or out. The playoffs, I wipe the slate clean and you start from Game 1."
Some things to know when the Central Division foes meet in the playoffs for the first time:
SEGUIN SKATING: All-Star forward Tyler Seguin was back on the ice this week after missing Dallas' last 10 games because of a small cut of his left Achilles tendon. Seguin had 73 points in 72 games before getting hurt. Ruff said Wednesday that Seguin was available to play, but that a decision for Game 1 wouldn't be made until Thursday. Seguin and Benn (89 points) are the NHL's highest-scoring teammates over the past two seasons.
WILD ENDINGS: Minnesota has finished its last three playoff appearances with losses to Chicago and Sharp. The Wild lost a first-round series in 2013 when the Blackhawks went on to win the Stanley Cup. The two teams met in the second round each of the last two seasons after Minnesota's first-round upsets — over Colorado in 2014 and St. Louis last year.
WHICH FIN IN NET?: Antti Niemi and Kari Lehtonen have split goaltending duties for the Stars all season, and likely will do so to start the playoffs after both Finnish players recorded 25 wins this season. Ruff said he wouldn't name a starting goalie before Game 1.
DIFFERING FINISHES: Minnesota ended the regular season with five straight losses, after winning six in a row before that. While the Wild were 15-11-1 after Torchetti took over as coach, they had the fewest points (87) by a Western Conference playoff team since San Jose in 1999-2000. Dallas won eight of its last 10 games, including 3-2 over Nashville in the regular season finale when Spezza had a hat trick and the Stars clinched the top seed.
___
This story corrects to say Dallas is the No. 1 seed in the Western Conference for the first time since 2003, not 1999-2000.
___
AP Sports Writer Dave Campbell contributed to this report.