White Sox allow seven-run rally, lose 13-11 to Rangers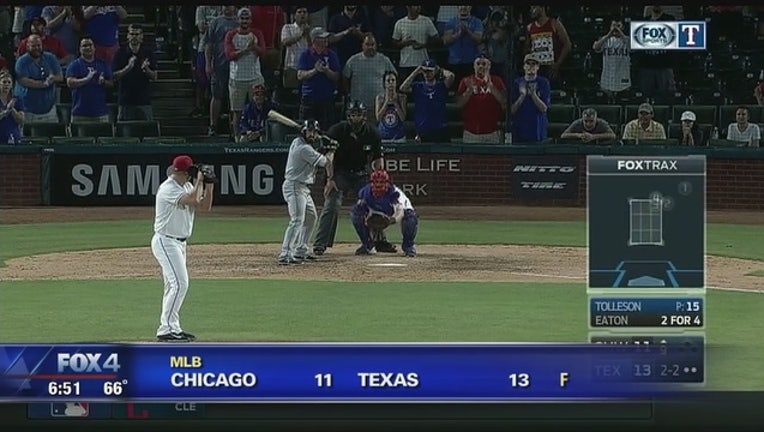 ARLINGTON, Texas (AP) — The Chicago White Sox have been able to count on their bullpen during a fast start this season — until Tuesday.
Ryan Rua hit a three-run homer to cap a seven-run rally in the eighth inning, and the Texas Rangers beat the White Sox 13-11.
The Rangers trailed 11-10 with two outs in the eighth when Rua went to the plate. He had only one home run in his previous 48 at-bats this season, and was just 4 for 26 (.154) against right-handers such as Matt Albers (1-1).
"It's frustrating. We should have won that game," Albers said. "I pitched around Prince (Fielder) on purpose, and then to Rua got 1-2, and was beating him in, and was trying to go away. The ball leaked right back down the middle."
The ball sailed toward center field, and landed about halfway up the batter's-eye grassy hill beyond the fence.
"I kind of swung at two bad fastballs," Rua said. "I had it in the back of my mind that he might come back fastball again, so I was kind of sitting on it."
The AL Central-leading White Sox had won six straight against the Rangers. Chicago's bullpen entered the game with a major league-leading 1.98 ERA. After the relievers allowed seven earned runs in 1 1/3 innings, the ERA jumped to 2.61. Albers' ERA ballooned from 0.57 to 2.20 with the three runs he allowed.
"We've been using these guys a lot," White Sox manager Robin Ventura said. "It was an off night, I think, bullpen-wise, and that's going to happen in a long season. This is a game where you tip the cap to those guys. They didn't give up."
Texas' Alex Claudio (1-0) gave up a three-run double to Avisail Garcia, the first batter he faced in a five-run fourth inning, but allowed only one run of his own in a career-high 4 1/3 innings.
Garcia and Todd Frazier each had three RBIs for Chicago.
Shawn Tolleson pitched a perfect ninth for his 11th save in 13 opportunities.
Rua had his homer, two singles and four runs batted in. Desmond and Bryan Holaday each homered and drove in three runs.
Umpire crew chief Jeff Nelson stopped the game before the third inning began because of nearby thunder. A strong shower brought a delay of 1 hour, 18 minutes.
The final pitch was shortly before midnight CDT. The final game of the three-game series is scheduled for 1:05 p.m. on Wednesday.
Starting pitchers Derek Holland and Carlos Rodon both came back to pitch the third inning after the delay.
Holland retired only two more batters and allowed four runs in the third. Texas tied the game at 5 on Holaday's three-run homer in the bottom of the inning.
Texas reliever Anthony Ranaudo walked five batters in the fourth. All of them scored.
Rodon had a 10-6 lead when he left after 6 2/3 innings. He allowed six earned runs, 12 hits and two walks, and struck out seven.
"I had a lead and I tried to go as long as I could," Rodon said. "I wasn't thinking about (saving the bullpen). As a starting pitcher, your job is to go five or six innings, at least."
DATA POINTS
White Sox DH Avisail Garcia tied the longest hitting streak (11 games) of his career with his bases-loaded double. 3B Todd Frazier has nine RBIs in the series' first two games. He drove in six runs and hit two homers, including a 12th-inning grand slam, on Monday.
SOX ROTATION
White Sox RHP Miguel Gonzalez pitched well enough on Monday to merit another start, on Sunday afternoon at Yankee Stadium. He allowed only one run in 5 1/3 innings in his second start for Chicago.
Manager Robin Ventura said, "He's had two tough lineups, both on the road (Toronto and Texas). I think he earned it."
TRAINER'S ROOM
Rangers: RHP A.J. Griffin (shoulder) had a precautionary MRI exam on Tuesday, but team physician Dr. Keith Meister had not evaluated the results before the game. He went on the disabled list Sunday.
UP NEXT
White Sox: RHP Mat Latos (5-0, 2.62) will start on Wednesday.
Rangers: LHP Cole Hamels (4-0, 2.68) will take his career-high, 11-game winning streak into Wednesday's game.