Westbrook scores 30, Thunder beat Mavericks 111-110 in OT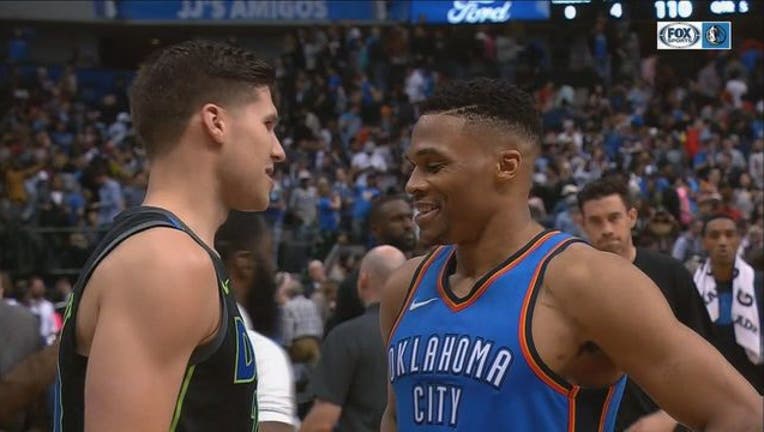 DALLAS (AP) - Russell Westbrook scored 30 points, including the go-ahead three-point play in the final minute of overtime, and the Oklahoma City Thunder beat the Dallas Mavericks 111-110 on Wednesday night.
Westbrook, who had 11 rebounds and seven assists, drove for the tying layup and made the free throw with 38 seconds left in OT to help the playoff-contending Thunder salvage a four-game split of the season series against a one-time postseason rival now among the NBA's worst teams.
Dwight Powell forced overtime at 100-all with a follow shot at the buzzer to match his career high with 21 points. It was the first points for Dallas since Powell's alley-oop dunk with 4 minutes remaining. Harrison Barnes led the Mavericks with 26 points.
The Mavericks had a chance to win in overtime, but could only get a desperation jumper from rookie Dennis Smith Jr. at the buzzer.
The Mavericks almost turned it over on the final possession of regulation but Wesley Matthews kept the play alive before missing a wild layup, with Powell grabbing the rebound on the other side of the basket and laying it in.
Carmelo Anthony had put the Thunder ahead with 1:23 to go on a layup after three offensive rebounds on the same possession, including two from Steven Adams.
Paul George had 23 points and 11 rebounds, and Adams had nine points and 12 boards.
Smith had eight of his 17 points in the fourth quarter and overtime.
TIP-INS
Thunder: F Jerami Grant was called for a flagrant foul for a swipe at the head when Powell made a layup in the first half. ... The Thunder outrebounded the Mavericks 56-36, including a 19-8 edge on offensive rebounds.
Mavericks: Dirk Nowitzki, who is sixth on the NBA scoring list, reached 31,000 points with his patented one-legged fadeway in the middle of the second quarter. The 39-year-old German, in his 20th season, all with the Mavericks, finished with 12 points. ... Powell led Dallas with eight rebounds.
NOEL RETURNS
Dallas center Nerlens Noel had four points, three rebounds and four fouls in 16 minutes in his return after missing 42 games following surgery for a torn ligament in his left thumb. He was rusty, failing to get off a shot on two alley-oops and missing another attempt. He led Dallas with three first-half turnovers, but had a highlight in the second half with a block on a soaring Westbrook going for a layup.
Before the injury was announced in December, Noel had appeared to fall out of favor with coach Rick Carlisle. The first six of those 42 missed games were listed as coaching decisions. He's playing on a one-year contract after he couldn't agree on a long-term deal with the Mavericks, who acquired him at the trading deadline last season.
UP NEXT
Thunder: At Phoenix on Friday.
Mavericks: At Chicago on Friday, the only road game in a stretch of seven games.
___
More AP NBA: https://apnews.com/tag/NBAbasketball