Westbrook, Durant lead Thunder past Mavericks in Game 1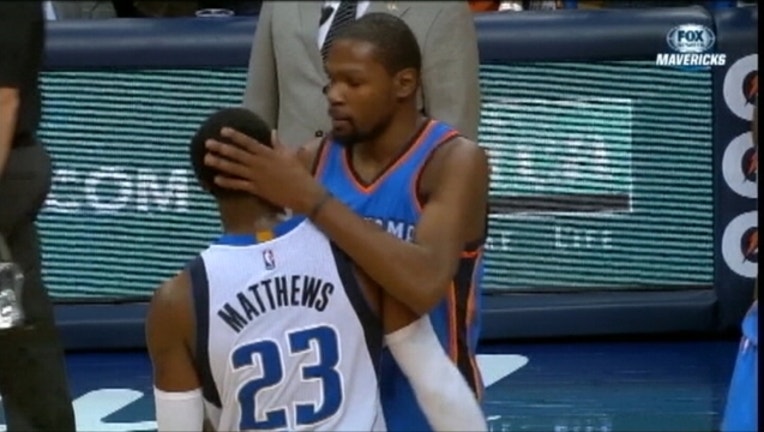 article
OKLAHOMA CITY (AP) — The Thunder scored the first nine points Saturday night against Dallas Mavericks.
Turns out, they were just getting warmed up.
Russell Westbrook had 24 points and 11 assists, Kevin Durant added 23 points, and the Thunder overwhelmed the Mavericks 108-70, opening the Western Conference series with their most dominant postseason performance since moving to Oklahoma City.
"We just wanted to impose our will early," Durant said. "We didn't want to ease into the game. We wanted to be the aggressor."
Serge Ibaka had 17 points and nine rebounds, and Enes Kanter added 16 points and 13 rebounds for the Thunder.
It was Oklahoma City's largest victory margin in a playoff game since moving from Seattle before the 2008-09 season, and the lowest point total the franchise has allowed in a postseason game, in Seattle or Oklahoma City.
"That was a shellacking," Dallas guard Devin Harris said. "They came out and hit us. We couldn't make shots. It kind of affected our defense and we really couldn't recover."
Dallas scored its fewest points ever in a playoff game, and its .298 field-goal percentage was the worst ever in a postseason game for a franchise that has existed since 1980.
"We started off missing a couple shots, and we got a little discouraged, I think," Dirk Nowitzki, who led the Mavericks with 18 points, said. "Instead of just playing through it, playing hard, getting back, picking up full court, just making life hard on them, we just went back in our shell a little bit. It's disappointing."
Game 2 will be Monday in Oklahoma City.
"I guess the only positive I take out if this — it's only one game. If you lose by two or by 50, in the playoffs, it's only one game," Nowitzki said. "We've got another crack to steal one on Monday night. We've got to play harder, we've got to play better. It's as simple as that."
The Thunder rolled to a 21-7 lead as Dallas made just three of its first 19 shots. Durant made 4 of 6 shots in the first quarter and scored nine points to help Oklahoma City take a 26-11 lead.
Frustration mounted for the Mavericks, and Nowitzki was called for a technical foul late in the second quarter. Durant made the free throw, then made a 3-pointer on the next possession to push Oklahoma City's lead to 52-23.
The Thunder led 59-33 at halftime. It was the fewest points the Thunder franchise has allowed in the first half of a playoff game since the move from Seattle, and matched the fewest the Mavericks have ever scored in the first half of a playoff game. Dallas shot just 26.2 percent from the field before the break.
The Thunder pushed the lead to 30 on a jumper from Ibaka with about 7 minutes left in the third quarter. The Thunder made 12 of 18 shots in the period to take a 93-51 lead into the fourth quarter.
"I thought we did a great job of coming out with a defensive mindset, especially against a good offensive team," Westbrook said. "We did a great job defensively for 48 minutes."
The Thunder have been in enough playoff games over the years to understand that they need to refocus for Monday's game.
"Each game is different, and we've got to be ready for a different team," Durant said.
INJURY REPORT
Mavericks G J.J. Barea sat out the second half with a right groin strain, the same injury that had limited his play in recent weeks.
Dallas coach Rick Carlisle said he's unsure of Barea's availability going forward.
"I'm very, very concerned. I think something happened. I don't think it's just tight. I'm afraid something happened."
Thunder F Nick Collison sat out the second half with a chest contusion.
WILLIAMS RETURNS
Thunder assistant coach Monty Williams attended his first game since his wife was killed in a car accident in February. He will not coach the rest of this season, but it meant a lot to the team that he showed up to watch.
"It kind of surprised us in pregame," Durant said. "Good to see him. We miss him so much. He's been a huge part of this whole season for us."
COURTSIDE
NBA Commissioner Adam Silver attended the game. Buddy Hield, the high-scoring guard who led Oklahoma to the Final Four, also attended.
TIP-INS
Mavericks: F David Lee missed this game, and might miss Game 2 with a plantar fascia injury. ... Salah Mejri started at center. The rookie started just six games in the regular season. He finished with one point and four rebounds. ... Missed their first 10 3-pointers. ... Carlisle was called for a technical foul with 4:43 left in the third quarter.
Thunder: G Cameron Payne was inactive with hip soreness. Thunder coach Billy Donovan said it wasn't too severe. ... Improved to 5-0 against Dallas this season. ... Outrebounded the Mavericks 56-33.
___
Follow Cliff Brunt on Twitter: www.twitter.com/CliffBruntAP.