Weeden gets shot as Cowboys QB, but Cassel will be waiting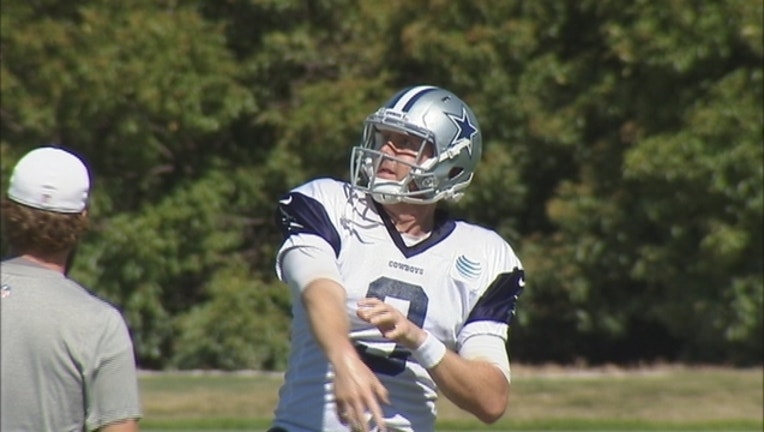 article
IRVING, Texas (AP) — Brandon Weeden is the starter for Dallas with Tony Romo sidelined by a broken collarbone, and coach Jason Garrett made sure to remind the fourth-year player of that after the Cowboys traded for help at quarterback.
Essentially, Garrett didn't want Weeden to view the addition of Matt Cassel as a threat.
"He was very upfront and said, 'This is your deal. Take it and run with it. We are behind you 1,000 percent,'" Weeden said of the phone conversation with his coach hours after Tuesday's trade with Buffalo.
"It was comforting coming from him. He didn't have to call me. But that's the way I was going to approach it."
With Romo out at least seven games after injuring his left collarbone last weekend against Philadelphia, Weeden has a chance to start consecutive games for the first time since a two-year stint in Cleveland ended with a 5-15 record as the starter, then his offseason release.
But if Weeden struggles against Atlanta (2-0) on Sunday the same way he did in losing his lone start for the Cowboys last year against Arizona, it might be difficult for the defending NFC East champions to ignore 2008.
That's when Cassel led New England to an 11-5 record after Tom Brady was lost for the season to a knee injury in the opener, although the Patriots missed the playoffs.
"Every player on this team is competing each and every day for their spot on the team, for their role on the team," Garrett said. "He knows that. We just feel like in this particular case with Tony being out, it was important for us to get a veteran quarterback in here."
Weeden gets the first chance — and his third as a pro. A baseball career as a pitcher never blossomed after the New York Yankees made him their top pick in the second round in 2002. And it was a rough two years with the Browns — nine interceptions and five touchdowns in his first five starts, all losses.
Older than most quarterbacks because of the five years he spent in baseball, Weeden still struggled with the transition to the NFL after setting Oklahoma State passing records in just two seasons and leading those Cowboys to their first BCS bowl in 2011.
Weeden's arm was never the issue. He threw 97 mph in his baseball days, and Cowboys owner Jerry Jones said on his radio show this week that he was "a thing of beauty on throwing a football."
But making the right decisions and processing things quickly have been more difficult.
"I watched some tape couple of years ago from my rookie year in Cleveland. I was just forcing balls into tight windows," said Weeden, who will turn 32 before Romo returns for the Cowboys.
"You look back, it's like stupid. Throw it to the back and move on to the next play. Those types of things you learn with experience."
Weeden said he has the same offensive coordinator two straight years in Dallas' Scott Linehan for the first time in his career going back to high school.
And he's coming off a strong relief showing in the 20-10 win over the Eagles, going 7 of 7 and throwing a clinching 42-yard touchdown to Terrance Williams in the fourth quarter.
"Being in a second year with the same guys gives me more confidence than I had my second year in Cleveland where I'm having to learn a whole new offense and I'm grinding on the playbook and grinding on the wrong things versus going out and executing what we do," Weeden said.
Romo was on a roll when he got hurt — seven straight games with a passer rating of at least 100. And game-winning drives when trailing in the fourth quarter in two of the last three before the visit to Philadelphia. That's all the more reason for Weeden to remind everyone of what he won't be.
"He's got talents you can't teach and I'm not going to try to go to sleep tonight and hope to God that I will wake up in the morning and do some of those things," Weeden said.
As much as anything else, Weeden was talking about Romo's ability to move around in the pocket, process things quickly and make changes at the line of scrimmage.
"If I see something, yeah, I'll change it," Weeden said. "I'm not going to call the whole game like he can. He's been doing it for a long time. I'm not going to put that pressure on myself."
And he's not taking the addition of Cassel personally.
"The quarterback position is so important, you've got to have guys in place if something were to happen," Weeden said. "He's been around this league a long time. He's been around Brady. I'm sure he will have a lot of positive information for us."
___
Online:
AP NFL website: www.pro32.ap.org and http://twitter.com/AP_NFL
___
Follow Schuyler Dixon on Twitter at https://twitter.com/apschuyler