Villanova, Michigan coach different styles for NCAA title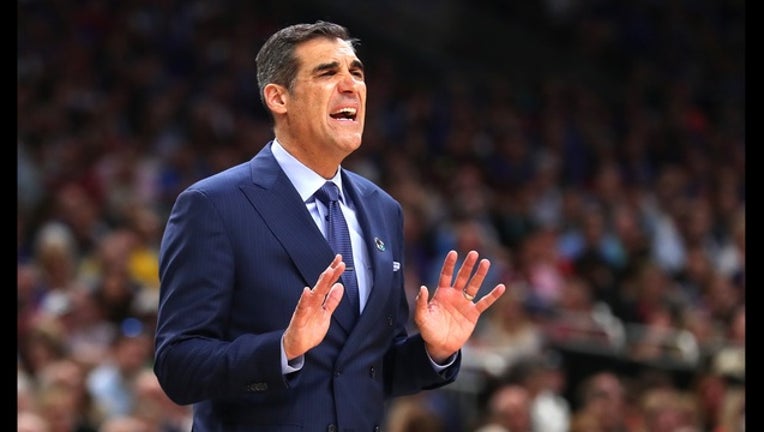 article
SAN ANTONIO (AP) - Jay Wright's custom-tailored suits are as sharp as Villanova's 3-point shooting. The game-day attire for Michigan coach John Beilein is more reflective of his team's emphasis on old-school fundamentals and defense.
"At the end of the game tomorrow, he'll still look like George Clooney and I will look like Columbo by Peter Falk," Beilein said Sunday. "I'd like to say Kevin Costner, but I can't go there."
For their drastically different styles, both in dress and how their teams play, one of them will be national champions Monday night. Wright will either get his second title in three seasons, or the 65-year-old Beilein his first in 40 seasons as a college head coach.
Villanova (35-4), the No. 1 seed from the East Region, has set records for making 3-pointers - both for the season (454), the NCAA Tournament (66) and their 18 in the national semifinal game against fellow No. 1 seed Kansas.
The title game in the Alamodome will be the first time in this NCAA Tournament that the third-seeded Wolverines (33-7) face a top-5 seed. They beat the Nos. 14, 6, 7 and 9 seeds in the West Region before overcoming a 10-point deficit after halftime Saturday night to be Loyola-Chicago, only the fourth No. 11 seed to ever make to the Final Four.
Loyola made only 1 of 10 3s against the nation's No. 3 defense in terms of efficiency.
After Kris Jenkins hit a buzzer-beating 3-pointer against North Carolina to win the national championship two years ago, Villanova's first since 1985 under Rollie Massimino, the now 56-year-old Wright noticed people looking at him differently.
"Mostly positively. But sometimes if you don't handle it well they look at you negatively. They just look at you a lot more. You just get a lot more attention," said Wright, in his 17th season at Villanova after seven years at Hofstra.
Beilein has an impressive coaching resume with 799 wins when including all his previous stops - at Erie Community College in New York, Nazareth, LeMoyne, Canisius, Richmond and West Virginia. Missing is a national title.
Of course, Beilein would love to have a championship - the Wolverines made to the 2013 title game and lost to Louisville. Louisville was later forced to vacate that 2013 title because of NCAA sanctions in the wake of an embarrassing sex scandal. It was the first time a Division I men's basketball program was stripped of a national championship.
Going into his 1,260th game as a head coach, Beilein doesn't anticipate that winning a title, or not, will change how he sees his career.
"You hang in there and you just do your absolute best every single day. And someday you're going to say, I gave it everything I had, and if I'm falling into my grave, that's OK too," Beilein said. But you just do everything you can to be the best coach, the best mentor, the best teacher, the best husband, the grandfather, father every day, and you go do it again. And that's all I want to be."
Michigan is in its seventh national title game. The Wolverines have won only one, beating Seton Hall in overtime in 1989.
Since his first coaching job as an assistant coach at Division III Rochester in 1984, Wright has been crossing paths with Beilein, who at the time was at LeMoyne College, also in New York. Wright said Beilein had an advantage in recruiting back then because he could offer scholarships while Wright could not.
"You'd be on a guy and you'd just hope you wouldn't see John in the gym. And like, in April, he'd pop in and he'd see you," Wright said. "You'd say, 'Are you going to take him, John?' He goes, 'Yeah, I'm sorry but we're going to take him."
They coached against each other in the Big East, after Wright got to Villanova and when West Virginia was still in that league.
These Wolverines with 6-foot-11 Moe Wagner are similar to some of Beilein's teams at West Virginia, like the ones that made back-to-back NCAA Tournament appearances more than a decade ago with big man Kevin Pittsnogle.
"They remind me of John's West Virginia teams. Wagner kind of reminds me of a modern-day Pittsnogle, thinned down, eating healthier, a little more skilled," Wright said.
After Michigan wrapped up the first national semifinal game Saturday by finally putting away Loyola, the favorite underdogs with Sister Jean on their side, Beilein didn't get a chance to tune into the Villanova game until after halftime.
By then, the Wildcats had already matched the Final Four single-game record with 13 of their 3s. They had a double-digit lead throughout after jumping ahead 14-4 in the first 4 minutes and added 10 more points before Kansas scored again.
"I'm sure glad I didn't get to see it," Beilein said. "It was an offensive clinic against a very good defensive team."
On Monday night, it will be up to Beilein's very good defense to try to prevent another one.
___
More AP college basketball: https://collegebasketball.ap.org ; https://twitter.com/AP_Top25 and https://www.podcastone.com/ap-sports-special-events