Vanderbilt beats TCU 81-78 in Big 12/SEC Challenge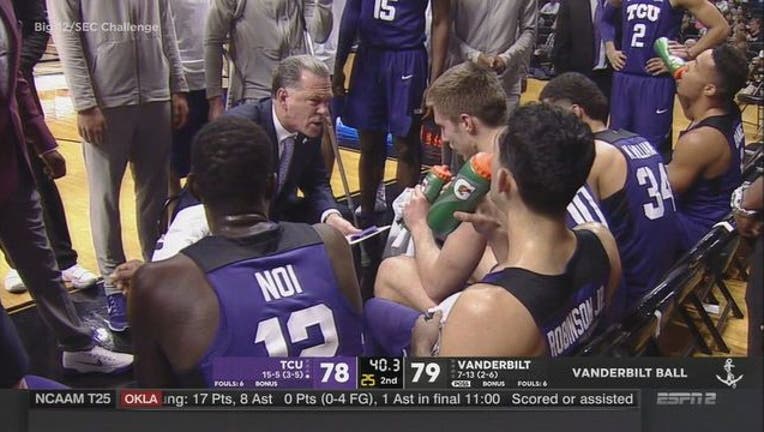 article
NASHVILLE, Tenn. (AP) - The Vanderbilt Commodores gave themselves something to celebrate in what's been a very trying season.
Riley LaChance's 3-pointer with 1:17 left put Vanderbilt ahead to stay, and the Commodores beat Texas Christian 81-78 Saturday afternoon in the Big 12/Southeastern Conference Challenge.
Vanderbilt (8-13) now has won two of three, and the Commodores improved to 2-3 in the showdown between the Power Five conferences. They won with coach Bryce Drew starting his 11th different lineup this season featuring seniors LaChance and Jeff Roberson with a trio of freshmen trying to make up for the loss of senior Matthew Fisher-Davis for the rest of the season with an injured shoulder.
"We're trying to get better, we're trying to build a program, we're trying to be the best we can and win games this year," Drew said. "There was a great celebration in the locker room afterward because we've been working hard, and we've been wanting to play well. And it's nice now two straight home games we feel we played well."
LaChance finished with 24 points, Roberson added 20 and freshman Saben Lee had 11 as the Commodores improved to 5-1 all-time against the Horned Frogs. Roberson called it probably the Commodores' biggest win this season.
"More than anything, it's just a big confidence builder going forward," Roberson said.
TCU (15-6) came in off an upset of No. 7 West Virginia, and another win might've gotten the Horned Frogs back in the Top 25. Now the Horned Frogs now have lost five of seven overall. They also are 3-2 in the Big 12/SEC Challenge and haven't beaten Vanderbilt since 1951.
"We shot 56 percent and outrebound by 15," TCU coach Jamie Dixon said. "It's hard to lose a game when you do those two things, but we found a way."
TCU guard Alex Robinson's layup tied it up at 76 with 2:19 left. But Robinson missed a 3-pointer as the shot clock expired with 1:27 left, and LaChance gave Vandy the lead for good with his fourth 3. Vladimir Brodziansky scored on layup to pull TCU within 79-78. LaChance hit a pair of free throws with 10.8 seconds left, and Kouat Noi's 3-pointer hit off the front rim with 3 seconds left for TCU.
Kenrich Williams led five Horned Frogs in double figures with 17 points. Brodziansky added 15, Robinson finished with 13, Desmond Bane 12 and Noi 11.
The Horned Frogs scored the first four points of the second half to take a 44-43 lead on a bucket by Bane. But LaChance answered with a 3, and Lee scored on a fast-break layup followed by a layup by LaChance with 17:39 left.
Vanderbilt led 43-40 at halftime after leading by as many as nine in the first half. TCU used 11 straight points to go up 21-16 before the Commodores went on a 19-5 run to take the lead back.
BIG PICTURE
TCU: The Horned Frogs outshot Vandy 56 percent (36 of 63) compared to 53 percent (31 of 59). They also dominated on the boards 36-21 but only had a 40-34 edge scoring in the paint with the Commodores driving for layup after layup. They didn't get to the free throw line even once.
"It's hard to get zero free throws because I've never been a part of it," Dixon said.
Vanderbilt: The Commodores give themselves a chance when they shoot well from outside the arc. They finished 11 of 25 from 3-point range. They also hit 8 of 9 at the free throw line. Despite being outrebounded, they finished with a 14-8 edge in second-chance points. They outscored TCU 21-8 off turnovers.
CLOSE LOSSES
TCU now has six losses this season by a combined 18 points. Dixon said the key for the Horned Frogs will be playing better defense. He wasn't happy with how they blew the assignment on Vandy's first made bucket, a 3.
"We don't follow through on assignments, we just don't do it well enough to be the team I think we can be ...," Dixon said. "This is similar to every game we've lost. But our defensive numbers are putting us in that position plus our slow starts."
UP NEXT
TCU: Visits Oklahoma State on Tuesday night.
Vanderbilt: Visits Kentucky on Tuesday night.
___
More AP college basketball: www.collegebasketball.ap.org and https://twitter.com/AP_Top25 .
___
Follow Teresa M. Walker at www.twitter.com/teresamwalker