US survives bites, tops El Salvador 2-0 to advance in Gold Cup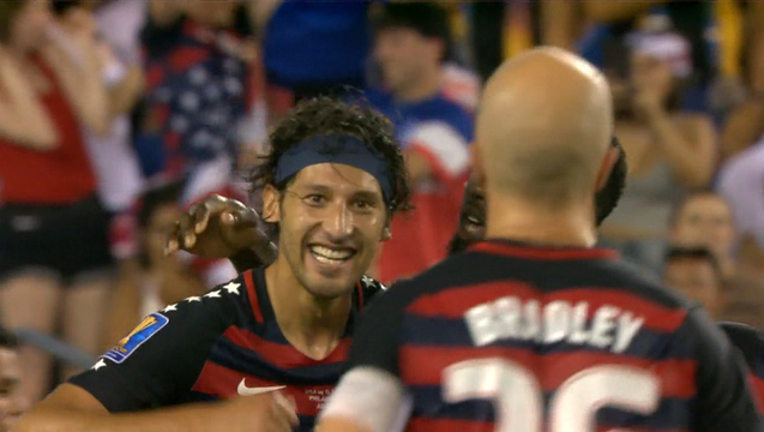 article
PHILADELPHIA (AP) - Skirmishing for position at the goal line ahead of a corner kick, Jozy Altidore could not believe what occurred: El Salvador defender Henry Romero bit the back of his left shoulder, then twisted his nipple.
Altidore maintained his composure - just - and then made light of the incident.
"My girl's mad at me," the American forward said. "She's mad at me. She's mad at Romero, 'cause she's like: 'Only I can bite you, only I can grab your nipples.'"
Amid the biting, twisting and talking, the U.S. advanced to a CONCACAF Gold Cup semifinal against Costa Rica with a 2-0 win on goals by Omar Gonzalez in the 41st minute and Eric Lichaj in first-half stoppage time.
But the ugly match, interrupted by 45 fouls, will be remembered for the mark on Altidore's shoulder left by the teeth of the 25-year-old defender. Gonzalez said after the game he was bitten on the back of his left shoulder, by Darwin Cerin in the 81st minute.
"I was a bit shocked," Gonzalez said.
U.S. coach Bruce Arena said he wasn't surprised.
"There's a history of that in our sport," he said. Uruguay's Luis Suarez was given a four-month suspension for biting Italy's Giorgio Chiellini during the 2014 World Cup.
A furious Altidore shoved Romero, then grimaced and fell to the ground but remained in the game.
"It's never happened before, but in CONCACAF, it never ceases to amaze me," Altidore said. "You got to keep your cool. ... I shouldn't be saying these things happen, but they do."
Canadian referee Drew Fischer, a Major League Soccer regular, did not penalize the incident, which occurred in the 57th minute.
"I can't fault the referee," Arena said. "Those things are not easy to see on the field."
CONCACAF's disciplinary committee has leeway to impose punishment.
"These things always happen in football," El Salvador coach Eduardo Lara said through a translator, although it was unclear he knew bites had occurred.
The Americans, who started five veterans added for the tournament's knockout phase, overcame a shaky defense and poor passing. They face Costa Rica on Saturday in Arlington, Texas.
El Salvador's 26 fouls disrupted the U.S.
"Our timing wasn't good. We didn't deal well with the physicality. The game had no rhythm with all the fouls and players falling on the ground, but we weren't good on top of it." Arena said. "So it took us, really it took us 30 minutes to play a little bit, and then we got a little bit more assertive in different positions on the field and capitalized on a couple of their mistakes."
Arena changed all 11 starters for the second straight game and at 7-0-5 set a record for longest unbeaten streak at the start of a U.S. coaching tenure, topping Bob Bradley's 10-0-1 in 2007.
The U.S. improved to 6-0 against El Salvador in the Gold Cup, also winning quarterfinals 4-0 in 2002 and 5-1 in 2013. The Americans are 17-1-5 overall against the Salvadorians, the only loss an exhibition at San Salvador in 1992.
Altidore, forward Clint Dempsey, midfielders Michael Bradley and Darlington Nagbe, and goalkeeper Tim Howard were all added to the lineup. A crowd of 31,615 at half-filled Lincoln Financial Field was evenly split with supporters of both teams.
Howard was called on to save the U.S. in the third minute. Rodolfo Zelaya ran onto a terrible, lightly struck backpass by Lichaj and instead of striking the ball with his first touch appeared to want to round Howard. The goalkeeper sprinted out, slid and batted away the ball with his left hand.
"I told Tim thank you after the game," Lichaj said. "He got me out of the dirt there."
Gyasi Zardes was fed by Dempsey, broke in alone in the 17th and put the ball in the net, but he was ruled offside by linesman Ainsley Rochard of Trinidad and Tobago - replays showed Zardes was even with the last defender when Dempsey made the pass.
Bradley took a free kick on a flank from about 35 yards and sent it on a low liner into the middle of the penalty area. Gonzalez, a 6-foot-5 defender, outjumped Cerin about 8 yards from the goal and redirected the ball with a glance of his head through the upstretched arms of goalkeeper Derby Carrillo. After scoring once in his first 40 international appearances, Gonzalez has two goals in his last three.
Lichaj, trying to earn a spot as the primary backup to DeAndre Yedlin at right back, was played in by Dempsey in the second minute of stoppage time and beat sliding defender Ivan Mancia to score on an angled shot through the goalkeeper's legs from 6 yards. After his first international goal in 14 international appearances, Lichaj sprinted to the corner flack, and arms wide, did a belly slide.
His English wife - he plays for Nottingham Forest - and two kids are traveling to every Gold Cup match. They drove to Philadelphia from Cleveland.
"They haven't really been to America besides Chicago where I'm from - to see my parents," he said.