UNT falls to Troy, 50-30, in New Orleans Bowl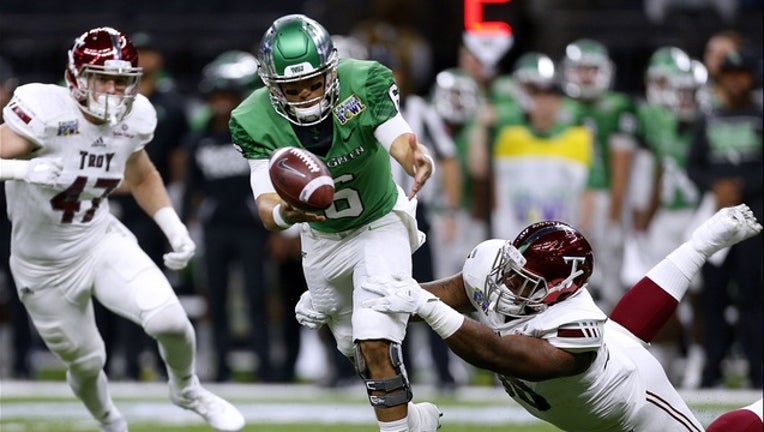 article
NEW ORLEANS (AP) - Brandon Silvers passed for four touchdowns and ran for another, Troy produced five turnovers and the Trojans beat North Texas 50-30 in the New Orleans Bowl on Saturday.
Josh Anderson, filling in for injured starter Jordan Chunn, rushed for 113 yards and two touchdowns, and Silvers also scored on a short run to help Troy (11-2) win for the 21st time in two seasons.
Silvers passed for 306 yards. Two of his TD passes went to Damion Willis, who had 136 yards and two TDs receiving on a New Orleans Bowl-record-tying 11 catches.
Mason Fine passed for 303 yards and three touchdowns for North Texas (9-5), but was intercepted twice and fumbled twice. He finished with Mean Green single-season records of 4,052 yards and 31 TDs passing.
Troy largely dominated the second half after its own turnover trouble gave North Texas hope at halftime.
The Trojans were threatening to take a three-touchdown lead in the second quarter when a bad snap sailed over Silvers' head and linebacker Colton McDonald scooped it for a 56-yard fumble return to make it 22-13. Fine later connected from 13 yards with Michael Lawrence for a diving catch on the edge of the end zone, making it 22-20.
UNT opened the second half with the ball, but Fine's short pass was deflected backward to linebacker Hunter Reese, who intercepted it to give the Trojans the ball on the North Texas 27. That set up Silvers' keeper to make it 29-20.
Troy widened the lead when Silvers rifled a pass deep down the middle to Tevaris McCormick for a 59-yard TD. McCormick's 107 yards on five catches.
Troy raced to a 15-0 lead, driving 80 yards for the opening score on Anderson's 1-yard run before converting Fine's first fumble into points.
Fine lost the ball trying to escape the unabated rush of Troy defensive tackle Jamal Stadom. Linebacker Sam Lebbie recovered inside the UNT 20. Anderson scored from 2 yards out a couple plays later.
THE TAKEAWAY
Troy: Troy got one vote in the last AP Poll, but might get more after arguably the greatest season in program history. One of the Trojans' 11 victories came on the road against an LSU team that has a chance to finish with 10 wins.
North Texas: The Mean Green's struggles on defense this season meant its offense would need a clean, efficient performance to beat Troy. Not only was UNT turnover-prone, but Fine was sacked six times as the Mean Green finished with minus-8 yards rushing.
TOUGH BREAK
A lingering knee injury denied senior Troy running back Jordan Chunn a chance to set a Sun Belt Conference career record for rushing touchdowns.
Chunn was injured during the Trojans' triumph over Arkansas State on Dec. 2, but Troy did not reveal his status for the bowl game until kickoff.
Chunn entered the game with 47 career rushing TDs, one short of the all-time Sun Belt record of 48 set by Tyrell Fenroy of Louisiana-Lafayette in 2008.
UP NEXT
Troy's offense will have to move forward without its quarterback or top running back, with Silvers and Chunn both outgoing seniors. Their replacements will debut in Troy's 2018 opener on Sept. 1 at home against Boise State.
North Texas has a relatively young squad with only a handful of senior starters. UNT will have to replace starters at safety, defensive end, linebacker and right tackle. North Texas opens 2018 at home on Sept. 1 in a Dallas-area matchup with SMU.
___
More AP college football: http://collegefootball.ap.org and http://www.twitter.com/AP_Top25