Tired Strong maybe happiest Big 12 coach after opening games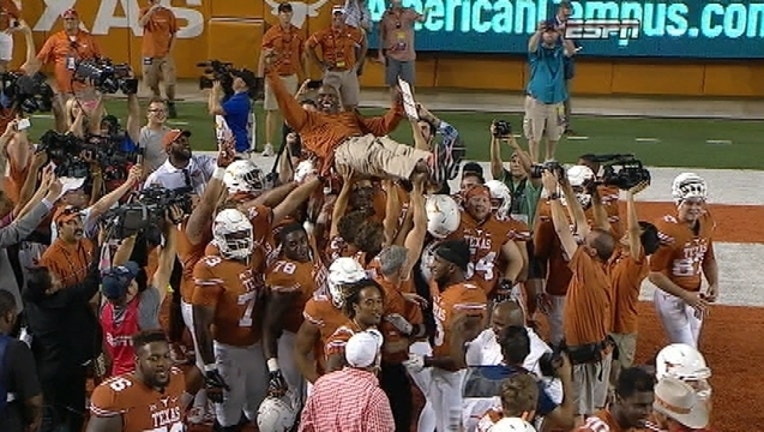 article
Texas coach Charlie Strong went home and sat around for a couple of hours after the Longhorns opened their season with a double-overtime victory over No. 10 Notre Dame. Then, without any sleep, he went back to work Monday morning.
"It was just an impressive win and I was just so happy for the players. It was hard to just rest your mind after that win," Strong said during the Big 12 coaches teleconference, often clearing his throat while sounding excited and exhausted after the 50-47 victory Sunday night.
"I was rooting for Texas to be able to win that game," West Virginia coach Dana Holgorsen said, knowing that big wins like that are good for the conference overall.
That was also a great way for the league to finish the opening weekend after falling in other big games. The Longhorns, coming off consecutive losing records in Strong's first two seasons, were the only winner among the three Big 12 teams with non-conference openers against top-15 opponents, though West Virginia did win over Missouri, now in the SEC after previously being in the Big 12.
Kansas State lost 26-13 at No. 8 Stanford on Friday night before No. 3 Oklahoma, the overwhelming preseason favorite to win its 10th Big 12 title, fell 33-23 to No. 15 Houston.
"Both sides of the ball were inconsistent," said Oklahoma coach Bob Stoops, whose team gets a chance to correct things at home Saturday against Louisiana-Monroe before sixth-ranked Ohio State visits Norman the following week.
The Longhorns started last season with a 38-3 loss at Notre Dame, and then went 5-7 while beating Oklahoma and Baylor away from home and losing three games by a field goal or less. In this opener, they went ahead by 17 points before the Irish regained the lead and then, immediately after Texas went back ahead late, returned a blocked PAT for a two-point conversion that tied the game.
"This game, it does so much for the confidence when you have a young team. You just want to make sure that it builds and that we don't allow them to get full of themselves," Strong said. "Last year, we probably would have lost this game."
Some other notes from the Labor Day edition of the Big 12 coaches teleconference:
— For the first time since the 2014 season, Kansas is coming off a victory.
Jayhawks coach David Beaty said it was great to see how players and students reacted after a 55-6 win over FCS Rhode Island. That snapped a 15-game losing streak, including a 0-12 debut last season under Beaty.
The Jayhawks, who host Ohio next, haven't won consecutive games since starting 2-0 in 2011 and then losing their last 10 games that season. They won their 2012 opener before finishing 1-11, and had opening wins in 2013 and 2014 on the way to 3-9 records.
— Oklahoma quarterback Baker Mayfield was sacked five times by Houston, and the Sooners finished with only 70 yards rushing even with the running duo of Samaje Perine and Joe Mixon. But when questioned about the offensive line Monday, Stoops defended the big men up front.
"Actually, the offensive line was one of our better groups. They actually played pretty well," said Stoops, adding how things changed in the third quarter after Houston returned a missed field goal for a touchdown and the Sooners were suddenly down 16 points after fumbles on consecutive drives after that. "Maybe we still could have (run) some, but in the end, when you're down 16, it doesn't lend itself to having a lot of patience."
— Texas Tech quarterback Patrick Mahomes, the national leader in total yards last season, got off to an impressive start with 540 total yards and six touchdowns against Stephen F. Austin. Coach Kliff Kingsbury was impressed by the junior quarterback for more than his 483 yards passing and 57 yards rushing.
"His vision seeing the field, his operation," Kingsbury said. "He checked us into some things early in the game on Saturday he wouldn't have gotten to last year. It's just becoming second nature. Everything's slowed down for him. He's healthy again, so he's running really well, and so he's playing at a high level. Much higher than last year."
___
Online: AP college football website: http://collegefootball.ap.org