Time is now: Texas Tech folks are ready for Kingsbury to win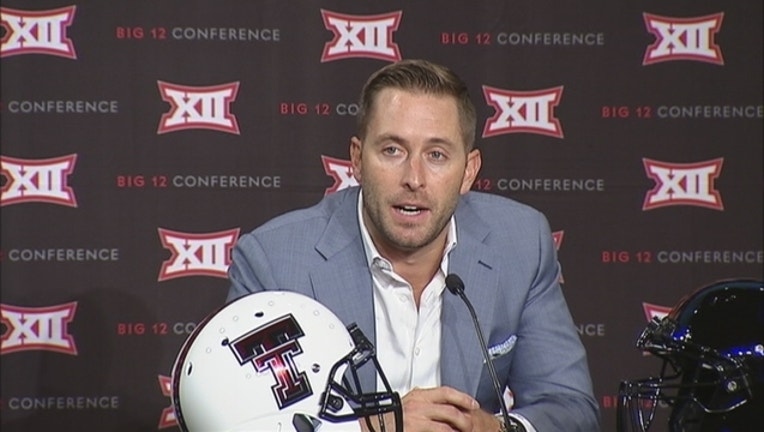 article
LUBBOCK, Texas (AP) - Kliff Kingsbury is still popular at Texas Tech, five years after his hiring as coach unified a fractured football program at his alma mater.
As much as fans on the West Texas plains want one of their own to succeed, patience wanes with just two winning seasons and a losing overall record heading into the former quarterback's sixth year.
Once dubbed "Coach Cool" because of adoring students, his sunglasses on the sideline and a perpetual 5 o'clock shadow, Kingsbury feels the urgency, with or without his athletic director saying the Red Raiders should be relevant in the Big 12 championship race every November.
Though that hasn't happened under Kingsbury, Kirby Hocutt declared immediately after Texas Tech beat Texas last November that the coach he put in charge of a program for the first time at age 33, with just two years of experience as an offensive coordinator, would return for another season. Kingsbury's contract runs through 2020.
"I understand that what we've been the last couple of years isn't good enough, record-wise," Kingsbury told The Associated Press a few weeks before the start of spring practice, which wraps up Saturday. "And we have to show improvement. That comes with the territory. Being an alum of Texas Tech, I want it as much as anybody if not more."
Hired after Johnny Manziel became the first freshman to win the Heisman Trophy under his watch at Texas A&M in 2012, Kingsbury electrified a fan base that had splintered.
Tommy Tuberville had left suddenly for Cincinnati, with the perception that he never really wanted a job he held for three years. Predecessor Mike Leach, the winningest coach in school history, was fired following allegations that he mistreated Adam James when the son of former SMU star Craig James had a concussion.
The arrival of Kingsbury was similar to that of his former coach, Spike Dykes. The West Texas native took the Texas Tech job when David McWilliams left after one season in 1986 to return to his alma mater - hated rival Texas, of all places.
Dykes only twice won more than seven games but he lasted 13 seasons in part because of his connection to the fans. Kingsbury's understated style is more CEO than country boy , but he's still one of them. Someone who wants to be here in this Big 12 outpost some 350 miles west of Dallas.
"People will be more patient with Kliff just because of the fact that he's a native son," said Tuey Rankin, a West Texas native who played for Dykes and is now a season-ticket holder. "I think he'd like to be here as long as he can. That was another thing that endeared Spike to the community was the fact this was his dream job."
Rankin and Rodney Allison, director of the Double T Varsity Club that stays connected to former players, say the goodwill only goes so far. Both acknowledge frustration among fans and former players with Kingsbury's 30-33 record, perhaps more specifically with a 16-29 mark in the Big 12, without a winning conference season.
"I think there's a point here, we've got to win some games," Allison said. "There's a point that 6-7, I don't think is good enough. And I think everybody would tell you that. We sure hope he's here 10 years. That means we'll turn this thing around and we've got it going in that direction where we're playing in bowl games every year."
Hocutt said he kept Kingsbury because the program improved in 2017 despite another losing record that was clinched with a 38-34 loss to South Florida in the Birmingham Bowl when the Bulls scored with 16 seconds remaining.
Most of what Hocutt means revolves around a defense that is improving and has some stability with defensive coordinator David Gibbs going into his fourth season. The Red Raiders also like to talk about 10 of 11 starters returning on that unit.
"With the momentum that I see each and every day within the program, it's the culture, it's the work ethic," Hocutt said. "It's the attitude within that football building and these young men I get to see every day. There's positive energy and focus and determination. It's exciting to see and obviously the results have to come in the fall."
Rankin said there was the money and support from boosters to dump Kingsbury after last season, which would have triggered a $6.8 million buyout. He credits Hocutt for showing patience after what he said was a risky hire on a young coach without much experience - five years total.
Hocutt was at Miami when Tuberville replaced Leach and said he didn't realize how divided fans were until he saw their euphoria over his choice. He wasn't blind to Kingsbury's inexperience.
"This is his first opportunity and it's a pretty big stage for it to be your first opportunity," Hocutt said. "And we knew that six years ago. It's been rewarding to watch him each year continue to grow and just continue to develop his philosophy as a head coach."
Kingsbury's specialty - quarterback - will likely remain unsettled going into summer workouts. But the odds are in his favor as the leader of a program that produced top 10 NFL pick Patrick Mahomes, the expected starter in Kansas City this fall, and is likely to have another QB drafted this month in 2017 starter Nic Shimonek.
This year's starter is likely to come from the trio of McLane Carter, who started the Texas game before Shimonek led the winning rally, former Dallas-area high school standout Jett Duffey and first-semester freshman Alan Bowman.
Kingsbury knows the key to success in the quarterback-driven Big 12. And if his athletic director expects to compete for league titles, Kingsbury believes he can.
"Each and every week, it's a dogfight and we're trying to slowly climb up that ladder," he said. "It's been a process, but we like where we're at. We think we're as healthy of a program as we've been since I've been here. Need to take that next step."
___
More AP college football: http://collegefootball.ap.org and https://twitter.com/AP_Top25