Texas Tech ousts Purdue 78-65 to reach first Elite Eight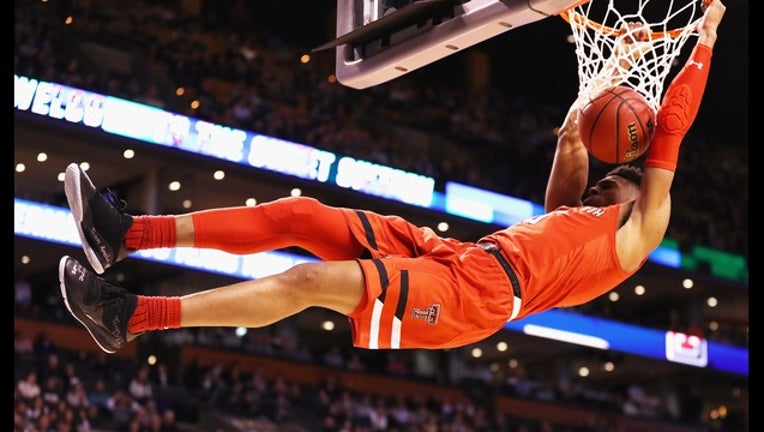 article
BOSTON (AP) - Chris Beard has done it to Purdue again.
The Texas Tech coach knocked the Boilermakers out of the NCAA Tournament for the second time in three years, this time leading the third-seeded Red Raiders to a 78-65 victory in the Sweet 16. Keenan Evans scored 12 of his 16 points in the second half, when Texas Tech scored 11 straight points to pull away.
The Red Raiders (27-9) will play No. 1 seed Villanova on Sunday in the East regional final for a spot in the Final Four. The Wildcats advanced earlier Friday night with a 90-78 victory over West Virginia.
Beard is in his second year in Lubbock after leaving Arkansas-Little Rock, where he led the Trojans to a double overtime upset over fifth-seeded Purdue in the first round of the 2016 NCAA Tournament.
This time, No. 2 seed Purdue (30-7) was hoping to join Villanova in the Elite Eight, getting 30 points from Carsen Edwards and 12 points and 13 rebounds from Vincent Edwards.
But Beard was in their way again.
Texas Tech trailed for most of the first before scoring the last 10 points of the half to turn a five-point deficit into a 30-25 lead. The Red Raiders led 58-55 with 5:44 left when Evans hit two free throws and then a three pointer to start an 11-0 run that put the game away.
Purdue star center Isaac Haas, the team's No. 2 scorer and rebounder, could only be a cheerleader - and a one-armed cheerleader, at that. After breaking his right elbow in the first-round game against Cal State-Fullerton, he tried to convince Painter he could play; the Purdue engineering department even pitched in, designing a special brace for his right arm.
But Haas remained on the bench, replaced by Matt Haarms, a redshirt freshman who at 7-foot-3 measures an inch taller but at 40 pounds lighter is hardly the force under the basket of that his senior teammate has been.
Haarms finished with four points and three rebounds.
___
More AP college basketball: https://collegebasketball.ap.org ; https://twitter.com/AP_Top25 and https://www.podcastone.com/ap-sports-special-events