Texas Tech credits culture change for 1st Elite Eight trip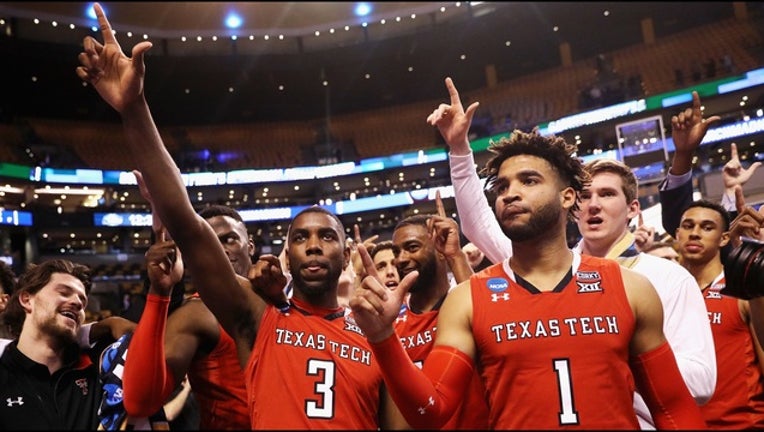 BOSTON (AP) - Texas Tech's Chris Beard just has to look at his surroundings to see how far he's come as a coach.
Beard and the third-seeded Red Raiders will again play Sunday inside the hallowed confines of the Boston Celtics' TD Garden when they face Villanova in the East Region final.
Surely a long way away from his first head coaching job at Fort Scott Community College in Kansas.
"Arnold Arena, our home arena, was a rodeo barn," Beard recalled Saturday. "It was a metal building with a wall right down the middle and had one single door. Half of it was the rodeo arena, where we had a national championship rodeo team at Fort Scott in Kansas, and the other half was the basketball court.
"That's certainly a pretty cool place."
Perhaps. But not as cool as it would be for Beard to take his Texas Tech team to its first Final Four in just his second season as head coach in Lubbock, Texas. And certainly not as gratifying as it would be to see the loose, but player-centered culture he's tried to build during his brief tenure pay off so quickly.
For many it's a mirror of the success he had in his lone season at Arkansas-Little Rock in 2015-16, leading it to a 30-5 record and the second round of the NCAA Tournament. But Beard says it started much earlier than that.
"We've done it more than two places," said Beard, who was originally an assistant at Texas Tech under Bob Knight from 2001 to 2008. "We've done this everywhere we've been. It's not arrogance, but it's confidence. We have a process we believe in. ... We get guys that fit our culture, and we coach them hard."
Villanova coach Jay Wright said he sees parallels between what Beard is doing and what he went through when he took over as the Wildcats coach.
"You can see the steady growth and the buy-in - he's got seniors coming off the bench that you can tell are very unselfish," Wright said. "You don't do that unless they're really bought in to the program. I believe he said Texas Tech was his dream job, like Villanova for me. When you really love where you are, it's advantageous in selling that to players."
One of the hallmarks of Beard's approach is to be as visible as possible to his players, from being present in workouts, to having private meetings with them, to eating meals with them.
When the team eats meals together back in Lubbock, players are required to bus their own tables.
Beard tells a story about how the team has been staying in "ridiculously nice hotels" during the tournament in which waiters pickup dirty plates of patrons.
One of Texas Tech's staff members left his plate out.
"I don't let that happen. Seriously, we make our guys get up and put their plate on the table, myself included," Beard said.
As for the offending staff member?
"He's still catching grief about it," Beard said.
He also allows players to choose music during practice. The players get three song selections for every one for the coaching staff. If the team loses a game, it's reversed.
"It brings energy. It brings life. Even though we probably play a little too much country, it gets the coaches even in a great mood and gets them fired up," senior guard Keenan Evans said. "So just us having music in there brings a little personality and helps us have fun in practice."
Beard also has made a point to not leave out the seniors, who are often caught in no-man's land during a coaching change.
For this team that has meant making sure they had a chance at a long NCAA run.
"Keenan Evans didn't have time for us to build it this year. He's got one shot. That's the way I've always felt, too," Beard said. "Guys like me get one shot, and that's just the way we coach."
___
More AP college basketball: https://collegebasketball.ap.org ; https://twitter.com/AP_Top25 and https://www.podcastone.com/ap-sports-special-events
___
Follow Kyle Hightower on Twitter at http://www.twitter.com/khightower