Texas lined up as Big 12's top class with defensive adds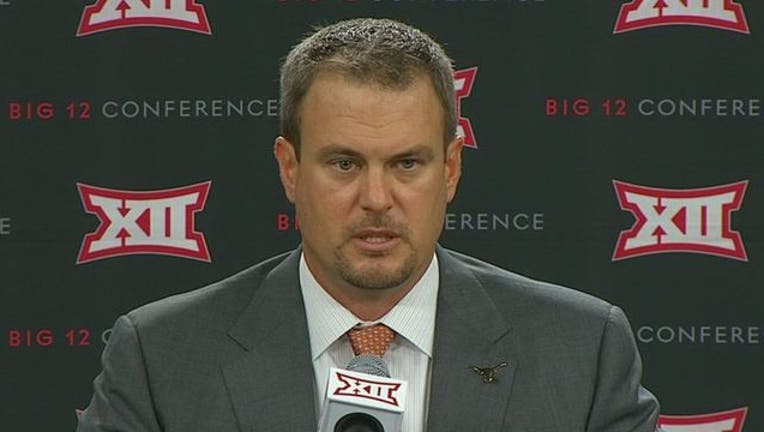 Things lined up nicely for coach Tom Herman and the Texas Longhorns to have one of the top signing classes in the nation, not just the best in the Big 12 Conference.
After a winning record on the field in Herman's first season, the Longhorns also made significant strides with his second recruiting class.
Eight more players signed with Texas on Wednesday, bolstering what was already a strong class with the 19 players added during the early signing period in December. That includes three defensive linemen, a 250-pound high school quarterback expected to play defensive end and a really young tackle.
"Pretty historic day. Obviously a lot of the work was done by December 21st, but adding the eight guys that we added today really kind of solidifies the class, especially on the defensive front," Herman said. "We made some big-time strides."
And gave the Longhorns the Big 12's best class.
Texas was No. 3 in the 247Sports.com team rankings, behind only Georgia and Ohio State and directly ahead of Southern California, Penn State, Clemson and defending national champion Alabama.
Defending Big 12 champion and College Football Playoff team Oklahoma, which added four more signees Wednesday for a class of 22, ranked ninth. TCU was the league's only other team in the top 25 - at 25th after also signing four to get to 22.
Longhorns signee Keondre Coburn, a 334-pound defensive lineman, had 20 tackles for losses as a senior at Houston's Westfield High and played in the Under Armour All-America game. The other defensive linemen were Daniel Carson from Independence, Missouri, and Moro Ojomo, a Nigerian-born 16-year-old from Katy, Texas.
Joseph Ossai is a linebacker from Conroe, Texas, while 250-pound Mike Williams was a high school quarterback in Baton Rouge, Louisiana, who is expected to be a defensive end for Texas.
"There's going to be a lot of competition on the defensive side. On both sides of the ball really," Herman said. "But I think we all can see, whoa, that side of the ball just got real in a hurry."
___
Some other things from Wednesday's national signing day in the Big 12:
SOMEWHAT QUIET: Because of the early signing period, much of the usual hoopla was missing on the traditional February signing day. The 10 teams in the Big 12 had signed 174 players in December, including 23 by Oklahoma State. TCU coach Gary Patterson didn't even conduct a media availability as previously scheduled Wednesday, taking away the opportunity to hear him to say the phrase "paper tigers" as he usually does when discussing signing classes.
IOWA STATE'S BIG PRIZE: The Cyclones beat out former Big 12 rivals Texas A&M and other prestigious schools, including Alabama, to land quarterback Brock Purdy. The 6-foot-1 Purdy was Arizona's Gatorade Player of the Year in 2017 after throwing for 4,405 yards and 57 touchdowns, both state records. He also ran for 1,016 yards and 10 more scores. Iowa State's roster lists a sophomore and two freshmen quarterbacks returning from last season.
BECOMING SOONERS SOONER: Like most of the top schools, Oklahoma completed a majority of its signing class in December. The Sooners have the most 2018 signees already on a Big 12 campus with 10 of them already enrolled in classes at Norman. That includes Brendan Radley-Hiles, a top cornerback and U.S. Army All-American from IMG Academy who was already on the Oklahoma campus before signing his letter of intent Wednesday.
BIG BROTHERS: West Virginia's latest signings were big, even though there were only two of them after the Mountaineers signed 20 recruits in December. Brothers Michael and Joe Brown, a pair of 340-pound offensive linemen, made it official Wednesday after verbally committing to the Mountaineers last week. The Browns are from Compton, California, and both played most recently at Eastern Arizona Community College. The 6-foot-4 Joe Brown started three games as a redshirt freshman in 2015 before playing at Eastern Arizona in 2016. The 6-foot-3 Michael Brown played at Eastern Arizona the past two seasons and has two seasons of eligibility remaining.
BE MY VALINTIN: Baylor's only additional signee, after 21 were secured in December, was offensive lineman Johncarlo Valentin. The 6-foot-5, 330-pound Valentin is originally from Philadelphia, where Bears coach Matt Rhule was at Temple before taking the Baylor job after the 2016 season. After playing last season ASA College in Brooklyn, New York, Valentin was ranked by ESPN as the No. 21 junior college recruit, and the best offensive guard.
___
More AP college football: https://collegefootball.ap.org and https://twitter.com/AP_Top25