Texas A&M upsets reigning champ UNC 86-65 in NCAA 2nd round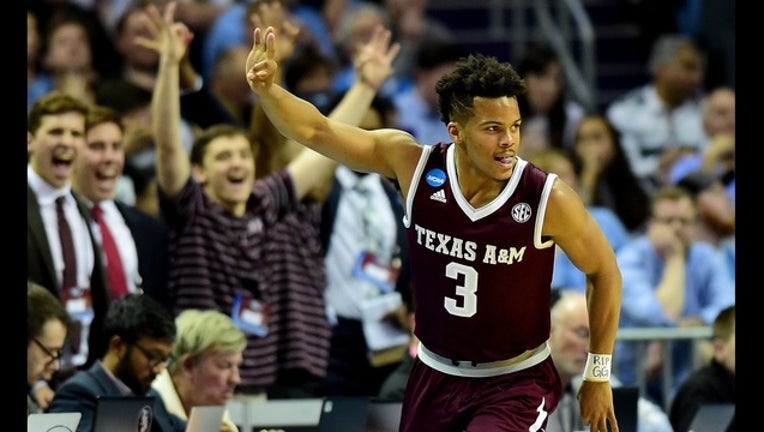 article
CHARLOTTE, N.C. (AP) - T.J. Starks scored 21 points and Texas A&M overpowered North Carolina inside, upsetting the reigning national champions 86-65 Sunday in the NCAA Tournament to mark the second straight year a title holder missed the Sweet 16.
The seventh-seeded Aggies (22-12) did everything they had to do to hand the Tar Heels a rare loss in a home-state NCAA game. They dominated the glass. They used their size to control the paint and block shots. And they pounced when UNC's small-ball lineup couldn't make an outside shot.
Robert Williams finished with 13 rebounds, helping the Aggies take a 50-36 edge while shooting 52 percent - including 10 of 24 from 3-point range.
Joel Berry II scored 21 points in his final game for the second-seeded Tar Heels (26-11), who were trying to reach their third straight Final Four. But they ended up falling to 34-2 in NCAA games in their home state, the only other loss coming in 1979.
BIG PICTURE
Texas A&M: The Aggies beat Providence in Friday's opening round, a win fueled by a dominating performance by Williams and Tyler Davis on the boards. And they were playing for only their third trip to the Sweet 16 since the tournament expanded to 64 teams in 1985. They earned it in impressive and unexpectedly dominant fashion.
UNC: Everything was set up for the Tar Heels to continue their ascent, from entering with 10 wins in 13 games to playing in their home-state where they had been practically unbeatable in NCAA games. Instead, they couldn't buy a 3-point shot (6 for 31), struggled to rebound against a bigger team and offered little more than a meager resistance as the Aggies played with aggressive confidence.
UP NEXT
The Aggies advanced to the regional semifinals in Los Angeles to face third-seeded Michigan, which beat Houston on a buzzer-beating 3-pointer Saturday.
___
More AP college basketball: https://collegebasketball.ap.org; https://twitter.com/AP_Top25 and https://www.podcastone.com/ap-sports-special-events
___
Follow Aaron Beard on Twitter at http://www.twitter.com/aaronbeardap