Texas A&M holds off Providence 73-69 in NCAA West 1st round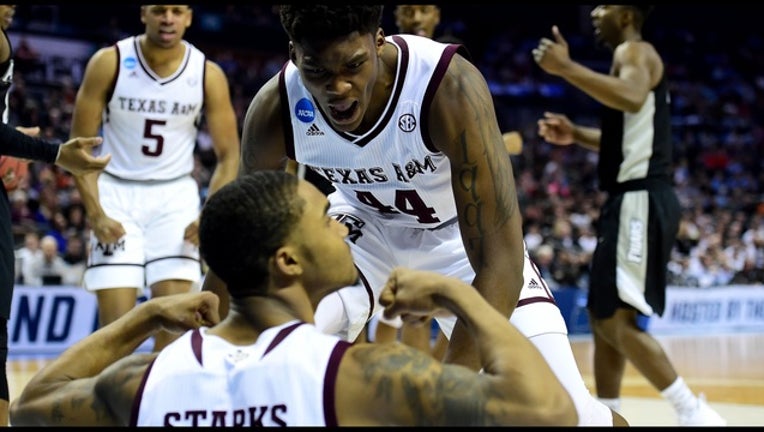 CHARLOTTE, N.C. (AP) - Tyler Davis and Robert Williams spent all Friday snatching rebound after rebound, blocking a few shots and had Williams offer a highlight-reel capper in the final minute.
When Texas A&M's bigs are playing like this, it's tough to tussle with these Aggies. And that gives them their best chance to stick around the NCAA Tournament for another weekend.
Davis had 14 points and 15 rebounds and Williams added his own double-double to help Texas A&M beat Providence 73-69, sending the Aggies on to the second round of the West Region. They will face second-seeded North Carolina.
Williams finished with 13 points and 14 rebounds for Texas A&M (21-12), the region's No. 7 seed. They also each blocked two shots.
"We got a lot of help from our guards, too," Davis said. "Our guards put bodies on the outside so we can play 1-on-1 inside. It was really a team effort. We were able to snag a couple of boards."
A couple? The 6-foot-10 forwards outrebounded Providence's entire team.
"We're just out there doing our job," Davis said. "This is what we do. We know we have the advantage inside most games so this is just another game where we came out and gave 100 percent effort on the glass."
Providence's players knew it would be a challenge for their smaller group to battle on the boards. The game plan, guard Kyron Cartwright said Thursday, was simply "box out." And all through the Friars' locker room in Charlotte on Friday were orange signs saying the same thing.
Still, knowing what they had to do and executing it were two different things.
The Aggies finished with a 44-26 rebounding advantage and had 11 offensive rebounds against the 10th-seeded Friars (21-14).
"Even though we were checking out, and I thought we did a decent job, they got length rebounds," Providence coach Ed Cooley said. "There's really nothing you can do. That's God's gift to them. There's really nothing you can do about it. You keep encouraging your kids, but when you've got 7-6 wing length and 7-5 wing length, that's genetics, baby."
THE HIGHLIGHT MOMENT
Williams offered the punctuating play when he blocked a final-minute 3 from Bullock and raced downcourt for a runout. Gilder found him and Williams launched himself for a windmill dunk with 39.2 seconds left.
To listen to Williams, it could've been more.
"I actually wanted to go between my legs," Williams said to laughter, "but I thought Coach (Billy Kennedy) would take me out."
BIG PICTURE
Providence: The Friars were making their fifth straight tournament trip and had earned wins against 1-seeds Xavier (twice) and Villanova this season. But they couldn't keep the Aggies off the boards nor get into a steady flow to take advantage of their guard play, shooting 44 percent for the game but making just 6 of 20 3-pointers.
Texas A&M: The Aggies were up and down all year, from hitting No. 5 in the AP Top 25 in December to starting 0-5 in the Southeastern Conference. But they came up with key baskets when they had to have them, and their game-long work on the boards was a heck of an advantage.
TOP SCORERS
Admon Gilder scored 18 points to lead the Aggies and Rodney Bullock had 22 points and three 3-pointers for the Friars.
THE DECISIVE MOMENT
Texas A&M ran off a 12-2 run to break a 50-all tie with about 9 minutes left and finally wrestle control away from Providence. That included Gilder's straightaway 3 with 2:49 left to cap that flurry for a 62-52 lead.
"I knew that was a big shot," Gilder said.
Texas A&M missed its first 10 shots in the game, but made 17 of 25 (68 percent) after halftime.
"At the end, they pulled it out because they had more energy than us," said Alpha Diallo, who scored 21 points for Providence. "They started taking it to us, and we couldn't answer on the other end."
UP NEXT
The Aggies advanced to Sunday's second round to play reigning national champion North Carolina, which beat Lipscomb.
___
More AP college basketball: https://collegebasketball.ap.org; https://twitter.com/AP_Top25 and https://www.podcastone.com/ap-sports-special-events
___
Follow Aaron Beard on Twitter at http://www.twitter.com/aaronbeardap