Texas A&M-Commerce wins NCAA Division II title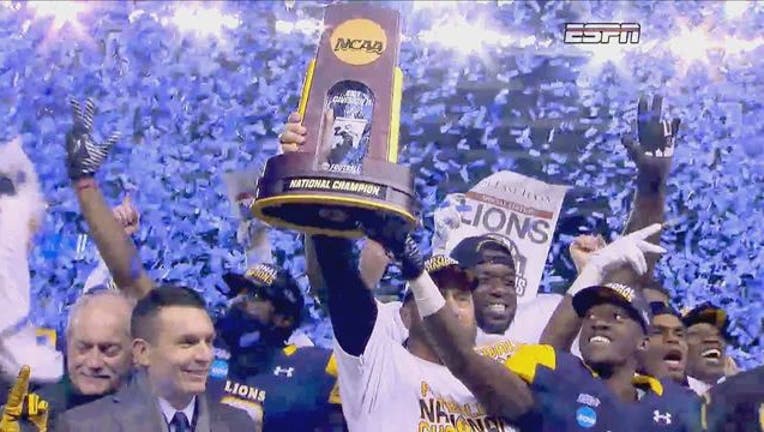 article
KANSAS CITY, Kan. (AP) - Luis Perez led Texas A&M-Commerce to its first NCAA Division II title and second football championship, throwing for 323 yards and two touchdowns in a 37-27 victory over West Florida on Saturday night at Children's Mercy Park.
Texas A&M-Commerce (14-1) also won the 1972 NAIA championship.
Perez completed 23 of 30 for 323 yards and two touchdowns. The Harlon Hill Award winner is the first quarterback to throw for more than 300 yards in the title game since 2005. He finished the season with 4,999 passing yards.
West Florida (11-4) was playing in the 26th game in the two-year history of the program. Mike Beaudry was 22 of 48 for 252 yards and a touchdown.
E.J. Thompson's 9-yard touchdown run put the Lions up 27-17 midway through the third quarter. Following a West Florida field goal, Perez hit Marquis Wimberly with a 40-yard pass to open up a two-touchdown lead at the end of the third quarter.
Commerce dominated the stats, outgaining the Argonauts 477 to 276 in total yards, but four Lions turnovers kept West Florida in the game. The Argos managed just 13 points off those turnovers.
Texas A&M-Commerce opened the game with a 97-yard touchdown drive, capped by a 50-yard scoring strike from Perez to Shawn Hooks. Following a failed Lions fake punt, West Florida responded with a 10-play, 49-yard drive. Chris Schwarz plunged in from the 1 for the tying score.
It didn't take long for Commerce to respond, as Reggie Kincade returned the ensuing kickoff 99 yards for a touchdown. It was the first kickoff return touchdown in the championship game since 2012. The Lions got two field goals to stretch the lead to 20-7 before a 20-yard touchdown from Beaudry to Antoine Griffin cut the lead to 20-14 at halftime.
NOTES: The two sides carried two of the longest active streaks in college football into the game. The Lions had the longest at nine games. West Florida was tied for the fourth longest at six games. ... West Florida was the third unranked team to play for the national title. All three have lost in the title game.