Texas A&M beats Houston 4-3 for another super regional berth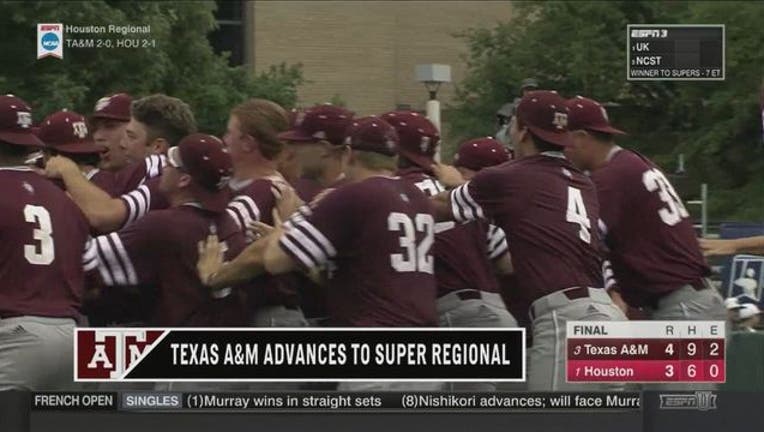 HOUSTON (AP) - Stephen Kolek struck out nine and took a shutout into the ninth inning as Texas A&M held on to beat Houston 4-3 on Monday, sending the Aggies to their third straight NCAA super regional.
Blake Kopetsky hit a two-run single with two outs in the first inning off Nolan Bond (2-1) to put the Aggies ahead to stay. Baine Schoenvogel hit a pinch-hit solo homer in the top of the ninth to make it 4-0.
Texas A&M (39-21) is likely to host the super regional next weekend against Davidson (35-24), the No. 4 seed that swept through the Chapel Hill Regional.
Houston (42-21) was scoreless until Corey Julks hit a one-out solo homer in the ninth, and Kolek (4-4) was done after giving up a single. Reliever Kaylor Chafin hit a batter before third baseman George Janca's fielding error on a potential game-ending double-play grounder loaded the bases. Cooper Coldiron followed with an RBI single and Nick Slaughter a sacrifice fly.
With two runners still on, Cason Sherrod struck out Cougars leadoff hitter Connor Wong to end the game.