Tebow homers in 1st at-bat for Mets in instructional debut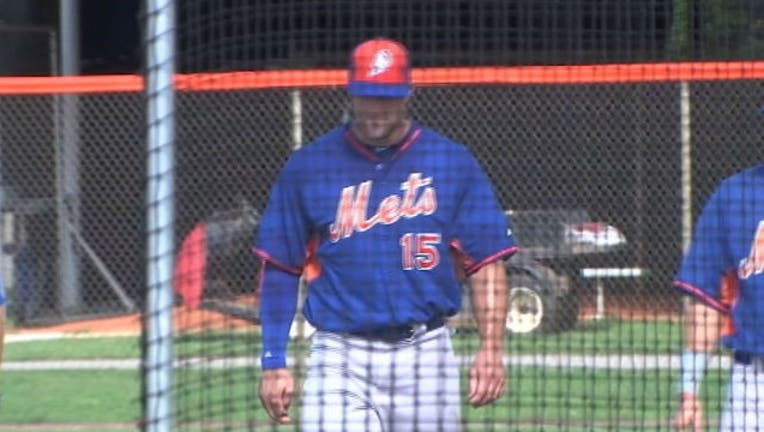 article
PORT ST. LUCIE, Fla. (AP) - Tim Tebow made a powerful first impression for the New York Mets instructional league.
The former NFL quarterback homered on the first pitch he saw Wednesday in his instructional league debut, against the St. Louis Cardinals. SCROLL DOWN FOR VIDEO.
"It was fun," said Tebow, who went 1 for 6 and put the ball in play in each plate appearance. "I just wanted to have the approach that I was going to be aggressive. That's something we've been talking about every day and practicing. It was probably a little high, but I got good barrel on it and it went out."
The 2007 Heisman Trophy winner drove a high 90 mph fastball over the left-field fence. The home run came off John Kilichowski, a left-hander who pitched for Vanderbilt and two St. Louis minor league affiliates this year.
Left fielder Dylan Carlson scaled the fence in an attempt to steal the home run, but his efforts came up short as fans roared in approval.
Tebow sprinted hard around the bases at first then slowed to a trot. The 29-year-old flashed a broad smile as he approached home plate, then was overwhelmed by his teammates, who had come out of the dugout to swarm him.
"I'm happy for him. I'm glad he found another career that he's good at," former Denver Broncos teammate Chris Harris Jr. said. "Shoot, he's already hitting home runs.
Tebow also grounded into a double play, bounced out to shortstop and hit a pair of flyouts. He hit a slow roller to third base in his fifth at-bat in the fifth inning, nearly beating the throw from third.
"The story continues. The majority of people think he's too old and doesn't have enough time," Mets manager Terry Collins said later in Miami. "He's such a winner, such an overachiever, he may do something people say can't be done."
Kilichowski, who played for a nationally top-ranked Jesuit High School team that featured Houston pitcher Lance McCullers Jr., said he was trying to get ahead in the count and thought Tebow might be taking.
"Just another batter. I tried my best not to think about it," the left-hander said. "Most of the times guys will take in the first inning. I just wanted to get ahead in the count and work on some things."
Kilichowski joked that he wasn't happy the video of Tebow's homer was going viral on Twitter but that "there's worse things."
In fact, Kilichowski apparently is a fan of Tebow's.
A Florida Gators fan growing up in Tampa, Kilichowski tweeted out praise of Tebow during the 2013 Sugar Bowl when then-Florida quarterback Jeff Driskel turned the ball over three times in the Gators' 33-23 loss to underdog Louisville.
Following Wednesday's instructional game, Kilichowski tweeted out to Tebow: "I thought we agreed you were taking first pitch @TimTebow"
Added Kilichowski: "He works hard, hit the ball hard, can't get mad at him for that."
Tebow said he wasn't surprised by the show of affection from his teammates.
"I've got a really good relationship with all the guys. We've had a chance to hang out the last couple of nights and see a movie last night and have dinner the night before. We've gotten along really well and root for one another," he said.
AP Sports Writers Arnie Stapleton in Englewood, Colorado, and Steven Wine in Miami contributed to this report.