TCU tops Texas A&M, advances to first College World Series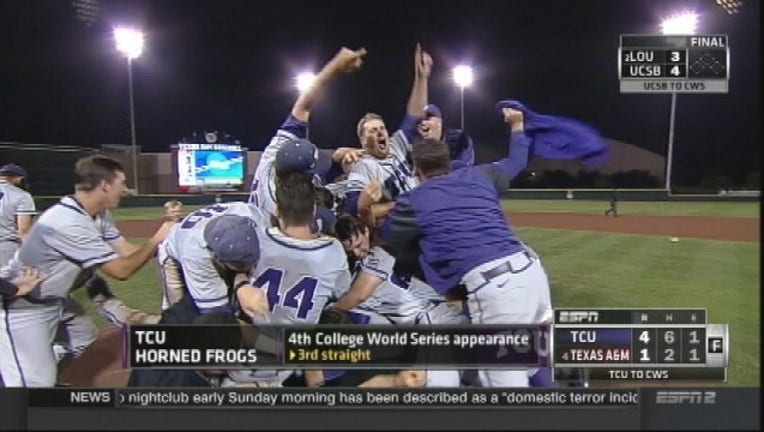 article
COLLEGE STATION, Texas (AP) — TCU has made a habit making trips to Omaha, Nebraska, at this time of year. This time, though, the Horned Frogs made it as underdogs.
TCU advanced to its third consecutive College World Series with a 4-1 victory over Texas A&M — the national No. 4 seed — in the deciding game of an NCAA Tournament super regional Sunday night.
"What this speaks to is the pedigree of our program - a true program," Horned Frogs coach Jim Schlossnagle said. "There's an expectation, and some great leadership."
The Horned Frogs (47-16) got a masterful outing from 6-foot-9 starter Brian Howard (9-2). He allowed two hits, and one of those was to the Aggies' first hitter, J.B. Moss.
"That was a lot of fun," Howard said. "My stuff was working tonight, and that helps against a team like that."
The junior settled in and kept the Aggies (49-16) off-balance for seven innings. Schlossnagle then turned to hard-throwing reliever Durbin Feltman to close out the stunned Aggies.
Howard admitted to nerves playing a role in a somewhat bumpy start to the game, before more than 6,000 opposing fans in Blue Bell Park.
"I got a little of the pregame hype out of my system," Howard said. "After that, I committed to executing coach Schlossnagle's game plan. I just settled into the environment."
A&M led 1-0 nearly half the game before TCU tied it in the top of the fifth on a passed ball by catcher Mike Barash.
In the seventh, the Horned Frogs scored on a bases-loaded walk by A&M reliever Andrew Vinson, a sacrifice fly against Mark Ecker, and then a wild pitch by Ecker.
"The story of the night is Brian Howard," said A&M coach Rob Childress, who was trying to guide the Aggies to the CWS for the first time in five years. "We started twisting the bats a little tight as the game went on."
A year ago, TCU edged Texas A&M 5-4 in 16 innings in a third and deciding game of a super regional in Fort Worth.
"It's tough, especially to lose to the same team two years in a row," A&M second baseman Ryne Birk said. "Watching them dogpile on your field is tough."
DEFEATING A FRIEND
Schlossnagle said he's thrilled the Horned Frogs are headed to Omaha again, but he feels for his friend Childress. Schlossnagle is a proponent of super regionals not being so geographically-inclined - that, like NCAA softball, the baseball tournament should be seeded with 16 teams instead of eight.
He said both TCU and A&M were good enough to be in the eight-team CWS.
"The College World Series is the second-largest money maker for the NCAA," Schlossnagle said. "We get told that every year at our convention. We've grown beyond trying to keep things 'homey.' It's time for us to truly seed the teams, and if that means one team has to travel across the country, so be it. The teams need to be seeded one through 16, at least."
ROAD WARRIORS
While the Horned Frogs are headed for their third straight CWS, this is the first time in that span they've won a super regional on the road. The last two seasons, they defeated Pepperdine and A&M at Lupton Stadium, each in three games. TCU finished 2-2 in last year's CWS, and 1-2 in 2014.
HIGH SCHOOL BATTERY POWER
Freshman designated hitter Luken Baker was one of the stars of TCU's 8-2 victory Friday night in Game 1 of the super regional, with a three-run homer. Freshman Durbin Feltman, Baker's high school teammate at Oak Ridge, about 30 miles north of Houston, then closed out the Aggies with two hitless innings of relief Sunday night in the deciding game. When Baker pitched at Oak Ridge, Feltman served as his catcher. The hard-throwing duo decided a couple of years ago to attend TCU together.