TCU tops Texas 87-71, creates Big 12 logjam of NCAA hopefuls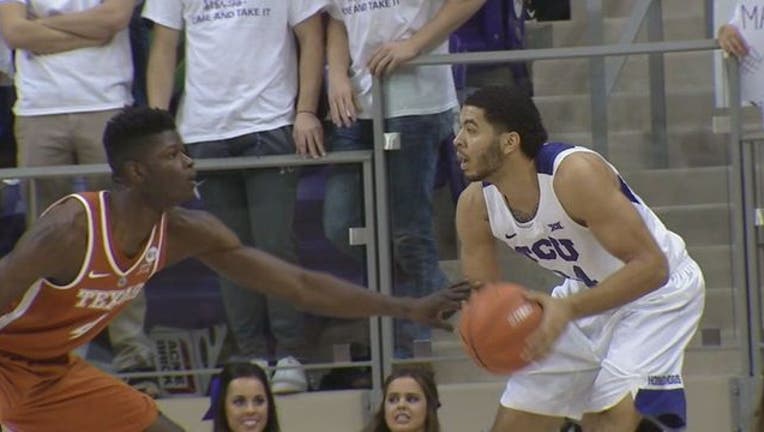 article
FORT WORTH, Texas (AP) - TCU did its part to pull Texas into a tie for sixth place in the rugged Big 12.
Upsets by Oklahoma State and Baylor made it a four-team scramble of NCAA Tournament hopefuls with six regular-season games remaining.
"There's nothing like this league," TCU coach Jamie Dixon said after Vladimir Brodziansky scored 25 points and Kouat Noi had his second straight career high with 18 in an 87-71 victory over the Longhorns on Saturday.
"I've been in other leagues that have been called the best league, maybe in history. There were bad teams in some of those leagues. We don't have that in this league. Every team is good, top to bottom."
The Horned Frogs (17-8, 5-7 Big 12) shot 60 percent with one turnover before halftime and never trailed in answering a double-overtime loss at Texas a day after the Longhorns learned that sophomore guard Andrew Jones had been diagnosed with leukemia.
TCU shot 55 percent for the game, a season high against the Longhorns (15-10, 5-7), while creating the sixth-place tie. Oklahoma State joined the group by beating No. 19 West Virginia, while Baylor knocked off No. 10 Kansas about the same time TCU won.
Mo Bamba scored 23 points but the 6-foot-11 freshman and Big 12 rebounding leader had a season-low five boards as the Longhorns got outrebounded 33-22 in their fifth straight Big 12 road loss.
Texas won its first three true road games this season before the current skid after going 0-11 in those games while finishing last in the Big 12 last season.
The Longhorns suddenly look shaky with two straight losses after rallying to beat No. 17 Oklahoma at home.
"A week ago, I have enough perspective to know we were in really good shape with the wins we've had and where we were," coach Shaka Smart said. "Obviously we're not in as good a shape now after these last two losses."
Noi, a redshirt freshman from Australia making his second career start, made his first three 3-pointers in the first four minutes and had 13 first-half points. Noi's previous high was 17 in a loss at Kansas on Tuesday.
Desmond Bane scored 17 points, including a desperation 3-pointer from several feet behind the arc for a 16-point lead with the shot clock about to expire early in the second half. Bane had another 3 to push the lead to 15 with about six minutes left after Texas had pulled within eight.
Alex Robinson had 11 points and a game-high eight rebounds for TCU, which finished with just six turnovers. Eric Davis Jr. scored 16 for Texas.
BIG PICTURE
Texas: Smart criticized his team's effort in its last loss at home against Kansas State. The message didn't sink in. The Longhorns lacked aggression again, best illustrated by Bamba's low rebounding total. He even had a rebound grabbed out of his hands by the 6-1 Robinson. Bamba made it worse by swiping at Robinson in frustration on a foul call as the TCU player went up for a shot, leading to some shoving. A video review did not result in a more serious foul.
TCU: The Horned Frogs really couldn't afford their second three-game losing streak in the Big 12. Now last season's NIT champions have a chance to get within a game of .500 again in conference following a 1-4 start. TCU had reached that point before consecutive losses to Texas Tech and Kansas.
HOT LONGHORNS, TOO
Lost in TCU shooting at least 55 percent for the third time in five games was a season-best 50 percent showing from 3-point range for Texas (10 of 20). The Longhorns came in as the worst-shooting team from 3 in the Big 12. The Horned Frogs also were 10 of 20 from long range.
COACH MIGHT SAY OTHERWISE
Bane didn't hesitate to acknowledge that the NCAAs will be on the players' minds over the final third of the Big 12 schedule. "It's always going to be in the back of your head," said Bane, who was 3 of 4 from long range. "It's always going to be something you think about, just living in the world we live in today, social media, TV. You see it everywhere."
UP NEXT
Texas: Baylor at home Monday.
TCU: At No. 19 West Virginia on Monday.
___
More AP college basketball: https://collegebasketball.ap.org and https://twitter.com/AP_Top25